Who are the most influential online Chief Digital Officers (CDOs)?
According to newly released data from the CDO Club and the influence ranking site Klout, two CDOs are tied as number one: Sree Sreenivasan, Chief Digital Officer at the Metropolitan Museum of Art, along with Jason Hirschhorn, former CDO at MTV.
Both have earned a Klout score of 81.
The number two spot is held by Stephen Gillett, former CDO of Best Buy, at 79.
The third position is another tie: Rachel S. Haot, Chief Digital Officer for the State of New York, with a score of 70, and Romain Pigenel, CDO at the Présidence de la République—the office of the President of France—who also earned a Klout score of 70.
The complete list of the top 10 most influential CDOs is displayed below (actually, there are 19 people total, given the ties).
Click here for the CDO Club's Top Ten CDOs Twitter list, and to automatically add their names to your Twitter feed.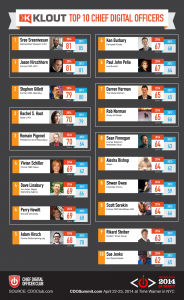 CDO Club's Top Ten Chief Digital Officers by Klout Score:
#1 Sree Sreenivasan and Jason Hirschhorn (tied at 81)
#2 Stephen Gillett (79)
#3 Rachel S. Haot and Romain Pigenel (70)
#4 Vivian Schiller, Dave Linabury, and Perry Hewitt (tied at 69)
#5 Adam Hirsch (68)
#6 Ken Burbary and Paul John Peña (tied at 67)
#7 Darren Herman and Rob Norman (tied at 65)
#8 Sean Finnegan, Alesha Bishop, Shwen Gwee, and Scott Sorokin (tied at 64)
#9 Rikard Steiber (63)
#10 Sue Jenks (62)
Note: This list is limited to CDOs who currently hold, or previously held, the title of Chief Digital Officer at a major organization for at least one year.
Four of the top CDOs have either keynoted at the inaugural CDO Summit (Vivian Schiller of Twitter), or will keynote at the upcoming CDO Summit on April 22-23 2014 at Time Warner in NYC (Sree Sreenivasan of the Metropolitan Museum of Art; Perry Hewitt of Harvard University; and Rachel S. Haot of the State of New York).
What are Klout rankings based on?
The site calculates its scores by examining several online social signals: Twitter retweets and mentions; Facebook comments, wall posts, and likes; LinkedIn comments and likes; and inputs from Google+ and other social sources.
OK. But should you really assign much meaning to a Klout Score?
Yes and no.
On the one hand, the score reflects the accepted online "wisdom of crowds" process that assesses influence by measuring popularity and group actions. Whether it's Google's PageRank, Twitter followers, or blog trackbacks, the ability to identify the most popular sites and people has proven to be a useful, if imperfect, way to filter who and what to pay attention to.
For example, when you search on YouTube for a "how-to" video, you are more likely to click on a video that has millions of views, versus clicking on one with just dozens.
The "wisdom of crowds" notion is also meaningful because some people and companies do treat and interact with others' differently, based on their Klout or other online influence scores.
You can automatically view the Klout scores of people you follow on Twitter by downloading a Klout Chrome plugin here.
And Klout's rankings provide leads to interesting people whose thoughts and opinions are, in fact, heard by many other people.
Finally, these lists can get a good discussion going—they're kind of fun!
On the other hand, Klout scores and other social ranking lists are an imprecise measurement of true influence. There are a few reasons why:
Many influential people are too busy to engage frequently on Twitter, Facebook, and other social networks, or they simply don't prioritize that activity.
Small gaps of a few points between people's scores don't necessarily mean any real difference in their overall influence.
People's scores can be "unfairly" penalized for odd reasons, such as a name change due to a change in marital status.
Someone may be highly influential with key decision makers inside a small, tightly linked online network whose members do not frequently connect with people in more popular outside networks. That makes it harder for that niche influencer's score to rise.
Some people actively work to try gaming the system.
And ideally, influence should be determined not merely by the quantity of one's communications, but rather by the quality—what is their insight, understanding, and vision?
And, of course, in the biggest picture, influence must include offline connections and activity: Where are they speaking and to whom? What prestigious journals have published their work? What is the person's level of respect? Leadership capabilities? And so on.
Yet those are factors we can't easily quantify.
And perception, as we know, is reality.
What do you think? Are influence-ranking sites like Klout, Kred, and Peer Index scores important? Let's discuss it in the comments.
– by Robert Berkman and David Mathison
 - – - – - – - – - – - – - – - – - – - – - – - – - – - – - – - – - – - – - – - – - -
We want to help our members understand the importance of social media and influence-ranking sites such as Klout, Kred, and Peer Index.
That's why we've arranged for New York Times best-selling author Joel Comm to present a workshop on Social Media for Busy CDOs designed to help you improve your online influence in under ten minutes per day.
That's just one of the dozens of workshops and panels we offered at the second annual Chief Digital Officer Summit, which was held on April 22–23, 2014, at Time Warner's Conference Center, located at One Time Warner Center in New York, N.Y.
 - – - – - – - – - – - – - – - – - – - – - – - – - – - – - – - – - – - – - – - – - -
NOTE: CDO Club content such as this post will continue to be free till November 1, 2014, when we will move to a membership model. Enjoy!
If you are tasked with understanding what digital leaders must do in order to succeed in almost any industry, the best place to learn more is at the fast-approaching London Chief Digital Officer Summit.
The London summit features Chief Digital Officers and digital leaders from a variety of sectors including advertising, banking, communications, consulting, education, entertainment, financial services, government, insurance, media, nonprofit, politics, publishing, PR, and retail.
The CDO Summit is presented by Accenture Digital and hosted by the BBC Worldwide in London, England, on 29 October 2014. Other sponsors include Odgers Berndtson, Forgerock, and MOO.com.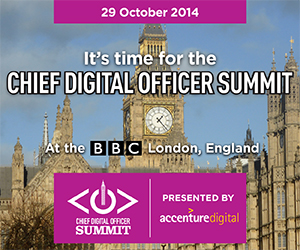 Both of our previous Summits sold out of tickets, weeks before the event. The BBC has very limited seating, so be sure to reserve your place now:
Charlie Redmayne
Chief Executive Officer
HarperCollins UK

Mark Dearnley
Chief Digital and Information Officer
HM Revenue and Customs (HMRC)

Mark Read
CEO, WPP Digital
WPP plc

Mike Bracken
Executive Director, Digital
Cabinet Office,
British Government

Amanda Hill
Chief Brands Officer
BBC Worldwide


Narry Singh
Head of Digital Business
Accenture EALA

Ralph Rivera
Director
Future Media BBC

Rohan Silva
Co-Founder
Second Home; Spacious


Saul Klein
Partner
Index Ventures
The CDO Summit is the "must-attend" digital event of the year. The 2013 and 2014 CDO Summits received stellar endorsements from dozens of speakers and attendees alike: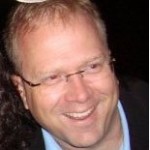 "Sometimes a conference comes along that hits the trifecta – hot topic, high-caliber attendees, and stellar location. The first Chief Digital Officer Summit reached that mark with ease, and I look forward to attending the next one."
Eric Hellweg
Managing Director, Digital Strategy/Editorial Director
Harvard Business Review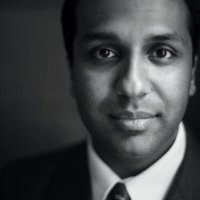 "The best-organized conference I've been to in years, the Chief Digital Officer Summit was packed with smart people and smart ideas. Leave 'em wanting more is what they say, and David Mathison and his team delivered. Now, we want more!"
Professor Sree Sreenivasan
Chief Digital Officer
The Metropolitan Museum of Art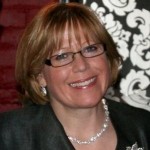 "David, here's a handy C^3 test for conference value: Did I learn at least three new perspectives? Check. Did I meet at least three interesting people? Check. Did I take back at least three relevant pieces of news I can use? Check. Flying colors for the Chief Digital Officer Summit 2013! Thank you so much, and yes, I'd be very pleased to participate next year!"
Perry Hewitt
Chief Digital Officer
Harvard University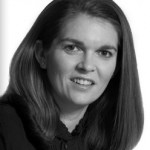 "Congratulations on an exceptional first CDO Summit. I truly enjoyed all the panel discussions as well as the intimate environment where I was able to meet such amazing people. The conversations were very enlightening and touched on all the challenges my team and I face on a technology, content, and culture front. I look forward to participating next year."
Laxmi Wordham
Chief Digital Officer
The Michael J. Fox Foundation for Parkinson's Research