"It's so different…with a person, you're dealing with an emotional relationship and their reputation."
That distinction—how managing fans of a personality, versus those of a product—was shared by Rosemary Maggiore, President of Rachael Ray Digital, at the 2013 Chief Digital Officer Summit Entertainment Panel.
Maggiore was one of four prominent digital executives discussing the pitfalls and promises of the direct and more intimate relationships that social networks have facilitated between popular personalities and their audiences.
The executives were part of the "Promoting and Protecting Personal Brands in an Always-On World" Entertainment panel, held at the Chief Digital Officer Summit, February 2013, at Thomson Reuters world headquarters at 3 Times Square in New York City.
You can watch the entire panel by clicking on the video below:
Panelists include (left to right):
Harriet Seitler: Chief Marketing Officer and Executive Vice President for Harpo Studies and OWN (Oprah Winfrey Network)
Katerina Markov: Head of Global Innovation, Atom Factory—an artist management company representing Lady Gaga, John Legend, and other prominent performers
Laxmi Wordham: CDO at the Michael J. Fox Foundation for Parkinson's Research
Rosemary Maggiore: President, Rachael Ray Digital
David Mathison: (Moderator) Curator, Chief Digital Officer Summit
Challenges and Opportunities
David Mathison, curator of the CDO Club, moderated the panel, and began the discussion by asking the panelists how do they, in fact, "protect" their brand, given the always-on nature of today's digital communication environment?
The panelists described how tricky that job can be. Maggiore said that Rachael Ray's Facebook account, Twitter posts, and website contents have sometimes opened her up to inappropriate and abusive comments. Maggiore said it makes her wonder whether those people "really have complaints—or do they just like to see their names in lights?" Whatever we say is going to get around, she added, so we have to be very sensitive to that.
And it's not just the audience that presents challenges—it's the celebrities, as well.
"Oprah does all of her own tweeting," Seitler said, and she "is very inclined to say whatever she feels like." This means Oprah will be authentic—but sometimes it means she can make an "authentic mistake," too.
"We don't control" her tweets, she explained.
Yet the panelists were nevertheless clearly enthused about the opportunities and potential of digital social networks.
Creating Authenticity and Trust
"The entertainment industry," Markov said, "never had a direct relationship between its personalities and the audience." Instead, she noted, there have always been intermediaries like television and radio.
But now, with social networks, "more authentic relationships can be formed."
A good deal of the benefits of that relationship is based on trust. Since Oprah's tweets are her own, Seitler said, her audience "knows they can trust that what she says is for real—she is out there, honest, and authentic. It also means that when she wants to promote or share something, they know it's true and will want to pass it on."
Wordham's organization, which has about 220,000 fans on Facebook, leverages its trusted celebrity brand a little bit differently. Her foundation, she explained, is not about the TV celebrity Michael J. Fox, but about finding a cure for Parkinson's disease. Yet it still "takes inspiration from him: his optimism, integrity, and humor," and uses social media to build and engage a community, which has also evolved into an online support group for those diagnosed with the disease.
Beyond Facebook and Twitter
The Atom Factory upped the ante and created ways in which its artists could build an even closer celebrity-to-fan relationship. One way was to create mobile apps. Another was to create its own private label social network, littlemonsters.com, where Lady Gaga can have her own relationship with fans. "Companies like Facebook and Twitter," Markov explained, "are still intermediaries—they own the data."
She shared a story to illustrate the benefits of a private social network. A while back, Markov said, news stories were circulating about Lady Gaga gaining weight. So the very next day the artist posted a picture of herself wearing lingerie on littlemonsters, announced a "body revolution," and invited her fans to post photos of themselves and share their own issues around weight. Thousands of photos and stories were uploaded to the network.
"I love that story," Maggiore told Markov, because "she took control of the issue and responded." She handled it her way and turned it into something positive.
(Note: The Atom Factory created littlemonsters through its own technology called Backplane, and licenses it as an OEM to other brands and artists. Markov said that clients maintain ownership of their own data.)
The Big Picture
What about larger benefits? The panelists were asked whether this new celebrity-to-fan relationship assists the organization's broader business goals.
The panelists stressed that the interests of their stars are naturally aligned with those of the company, and that they will work to ensure that its products and ventures succeed.
It's just that they will support it in their own words, via authentic moments, and in ways that are true to who they are.
Furthermore, these celebrities are entrepreneurial, and often come up with ideas for new ventures themselves. Maggiore shared an instance of when Rachel Ray had to make a presentation at SXSW. Although off brand, "it worked," she said, because Ray was truly passionate, consumers discovered it, and now sponsors want to underwrite it, and "everyone wants to go!"
But what about the bottom line—can these relationships improve sales? Yes, they can, the panelists agreed, and once again, it's all because of, in Seitler's words, that "fundamental platform of trust."
Markov shared how Lady Gaga started a discussion ahead of the launch of her new fragrance, which then helped lead it to becoming the biggest selling fragrance in the world.
These rich, authentic conversations, Seitler explained, allows her network to "find out what's bubbling up that people want to talk about." Those insights can be built right into creative products—and in an authentic way that will resonate with its audience.
From Dialog to Data
The conversations also produce valuable data. Markov shared how the data her firm collects is strategically leveraged to presell show tickets, identify popular song sets to play at a show, and more.
Wordham is even using members' data, voluntarily provided on a separate website, to collect self-reported profile data to help Parkinson's researchers match its clinical trials to members' locations. The next frontier, she added, could be collecting data on patients' on/off periods, their moods, sleep habits, and exercise routines, and make it all available for research for generating hypotheses in an attempt to find a cure.
Who knows where else cultivating trust and authentic relationships online can lead?
– by Robert Berkman, exclusively for the CDO Club
 - – - – - – - – - – - – - – - – - – - – - – - – - – - – - – - – - – - – - – - – - -
NOTE: CDO Club content such as this post will continue to be free till November 1, 2014, when we will move to a membership model. Enjoy!
If you are tasked with understanding what digital leaders must do in order to succeed in almost any industry, the best place to learn more is at the fast-approaching London Chief Digital Officer Summit.
The London summit features Chief Digital Officers and digital leaders from a variety of sectors including advertising, banking, communications, consulting, education, entertainment, financial services, government, insurance, media, nonprofit, politics, publishing, PR, and retail.
The CDO Summit is presented by Accenture Digital and hosted by the BBC Worldwide in London, England, on 29 October 2014. Other sponsors include Odgers Berndtson, Forgerock, and MOO.com.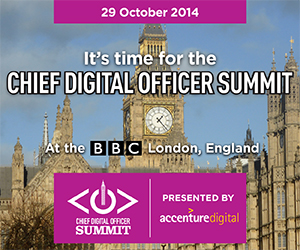 Both of our previous Summits sold out of tickets, weeks before the event. The BBC has very limited seating, so be sure to reserve your place now:
Charlie Redmayne
Chief Executive Officer
HarperCollins UK

Mark Dearnley
Chief Digital and Information Officer
HM Revenue and Customs (HMRC)

Mark Read
CEO, WPP Digital
WPP plc

Mike Bracken
Executive Director, Digital
Cabinet Office,
British Government

Amanda Hill
Chief Brands Officer
BBC Worldwide


Narry Singh
Head of Digital Business
Accenture EALA

Ralph Rivera
Director
Future Media BBC

Rohan Silva
Co-Founder
Second Home; Spacious


Saul Klein
Partner
Index Ventures
The CDO Summit is the "must-attend" digital event of the year. The 2013 and 2014 CDO Summits received stellar endorsements from dozens of speakers and attendees alike: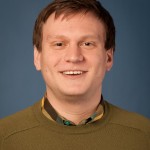 "Congratulations and thanks to David Mathison for spotting the need for community and collaboration in the growing Chief Digital Officer space, and for having the wherewithal, network, and organizational talent to put together such a top-notch event in its inaugural year. Next year's summit should be even more of a must-do for anyone working digital at senior levels in all kinds of businesses."
Teddy Goff
Digital Director
President Barack Obama 2008 and 2012

"The Chief Digital Officer Summit was outstanding. Why? Candid panels with top players in the digital community. Splendid break-time conversations. And, savvy facilitation, Mathison Style."
Margaret Molloy
Chief Marketing Officer
Velocidi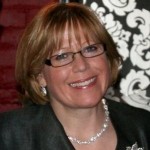 "David, here's a handy C^3 test for conference value: Did I learn at least three new perspectives? Check. Did I meet at least three interesting people? Check. Did I take back at least three relevant pieces of news I can use? Check. Flying colors for the Chief Digital Officer Summit 2013! Thank you so much, and yes, I'd be very pleased to participate next year!"
Perry Hewitt
Chief Digital Officer
Harvard University

"Congratulations on the inaugural Chief Digital Officer Summit. Rarely does a conference offer such high caliber content and attendees. Kudos to David Mathison on creating an event that sparked such great insights and conversation."
Linda Perry-Lube
Chief Digital Officer
RF | Binder
< More News