Open CHIEF DIGITAL OFFICER and CHIEF DATA OFFICER positions are posted below.
Our Executive Search team places exceptional candidates at incredible organizations.
We are committed to providing CHROs and Talent Managers with qualified leaders, and simultaneously giving our members the tools they need to excel in their jobs, and, when appropriate, to find new opportunities.
The following sets us apart from traditional executive search firms:
We have a thorough and intimate understanding of the global digital and data talent market.
We know which companies are hiring, all over the world.
Our CDO Summits feature the world's leading digital and data executives. Summits are held in NYC (our 5th year), London (our 4th year), Amsterdam, Sydney, Australia, Istanbul Turkey, and Tel Aviv, Israel (our 2nd years).
Our 5,000+ CDO Club members are part of an extensive database of qualified professionals. We can help you fill even the most challenging leadership roles.
Our exclusive CDO Talent Maps enable us to create pre-qualified, pre-vetted "short lists" of candidates that allow us to source and place candidates rapidly, without sacrificing quality.
We help companies identify and place digital leaders for public Board Director and Non-Executive Director (NED) positions.
If you are in charge of securing digital talent at your organization, or if you are a digital leader looking for your next career opportunity, contact us in complete confidence:
via email or +1 516 488-1143
---
Job Opportunities at the
Chief Digital Officer Summit and CDO Club
Looking for fulfilling work? Know someone who is?
The Chief Digital Officer Summit and CDO Club is hiring:
VP & General Manager, CDO Summits: General Manager with 10-15 years experience in planning and operating events as a profit center. You will have P&L responsibility for CDO Summits and roundtables in various global cities, as well as webinars and other online and offline events. Must have a strong record of success with similar properties plus global contacts with sponsors, speakers, delegates, and venues.
VP & General Manager, CDO Club Community: General manager with 10-15 year experience in building online & offline communities and running membership sites. The right candidate will be responsible for our CDOClub.com community of over 5,000+ registered members, managing our CDO Club global affiliates in Israel, Istanbul, Japan, and Switzerland, and expanding our global affiliate program into new regions.
Managing Director, Executive Search: Seasoned Executive Search professional with 10-15 years experience in sourcing and placing C-level digital and data executives. Must have a strong record of success in placements at major organizations.
If you are interested in applying for any of these positions please send your LinkedIn profile, cover letter, and a recent copy of your resume to david@cdoclub.com. In the subject line please include your first and last name and the position you are applying for.
---
Below you will find dozens of open C-level digital positions. You need to be a CDO Club member to view the rest of this page......
---
Endorsements:

"I hired David to help source and appoint a New Media Director. At our first meeting I was impressed with David's knowledge of the field and his ability to easily understand the nuanced needs of our organization. David appreciated our need to move on this quickly and within a couple of weeks he was able to present top quality candidates. For those of us who have worked with large global search firms who take eight weeks to present a first slate, David's approach was nimble and responsive and did not trade-off the quality of candidates. Clearly he has a strong network to call on. David managed our needs and candidates' needs with regular and thorough feedback. In the end we had a good problem - a few superb finalists. I highly recommend David as a search partner for professional/executive level positions."
Samantha Gilbert
Chief Human Resources Officer
The Rockefeller Foundation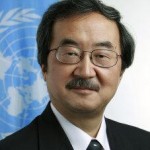 "I write to express my appreciation for your participation in yesterday's meeting on social media and for your valuable contribution to our efforts to embrace new media at the United Nations. I note with interest your innovative ideas, such as harnessing the willingness of the public to work on special projects. As you have rightly pointed out, people are eager to find connections and to align themselves with a worthy cause. This, indeed, carries a great potential, and I hope that in the coming months we are successful in translating those ideas into action."
Kiyo Akasaka
Under-Secretary-General for Communications and Public Information
United Nations

"David Mathison is one of the top speakers to visit campus in my 21 years at the University of Nebraska at Omaha. He was comfortable collaborating with students, faculty and professionals. Omaha Press Club Foundation board members rated him very highly. David helped our faculty to understand the huge changes underway in the media business. Less than one month after his visit, we had rewritten the mission, vision and goals statements for the entire School of Communication to reflect a new way of thinking about our media curriculum. David helped us to get there."
Jeremy Harris Lipschultz, Ph.D.
Professor & Director
School of Communication, The University of Nebraska at Omaha