If you missed the fourth event in the IBM CDO/CTO Summit Series:
Privacy Expanded
on August 17, 2022 or want to watch it again, check it out below:
Today, every organization faces the challenge of ensuring that their data policies and practices continue to meet evolving regulatory requirements, especially regarding privacy.
Challenging and uncertain times are accelerating digital transformation and the implementation of data-driven culture faster than ever.
Privacy and the protection of personal information, together with a solid data governance framework are essential to successful privacy policy implementation.
In this event, we will be joined by Chief Privacy Officers from some of the world's most prestigious organizations to discuss the interplay of data privacy and governance, and how best practices help to ensure your enterprise is fully prepared.
Courtney Welton

: Senior Vice President, General Counsel Innovation Law, Chief Ethics, Compliance & Privacy Officer at Allstate

Susan Rohol

: SVP and Chief Privacy Officer at WarnerBros Discovery

Tami Dokken: Chief Data Privacy Officer at The World Bank
Tom Moriarty

: Executive Vice President, Chief Policy and External Affairs Officer, General Counsel at CVS Health

Christina Montgomery: Chief Privacy Officer, AI Ethics Board Chair at IBM
Liliana Horne: Director, AI Accelerator, Chief Data Office at IBM
Inderpal Bhandari: Global Chief Data Officer at IBM
Speakers include: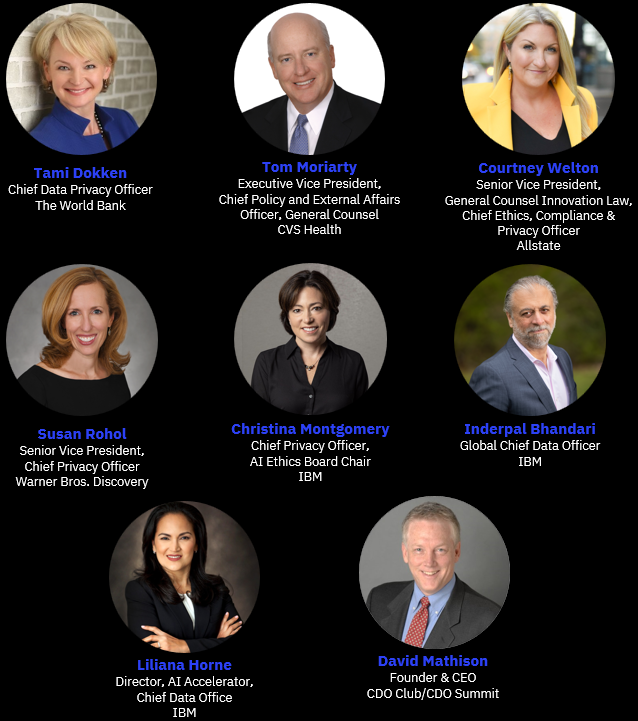 IBM and the IBM logo are trademarks of International Business Machines Corp., registered in many jurisdictions worldwide.
Having trouble with registration? Email: jill@cdoclub.com or kristina@cdoclub.com