Leadership During Challenging Times
If you missed the first event in the IBM CDO/CTO Summit Series
"Leadership During Challenging Times"
on March 9, 2022 or want to watch it again, check it out below:
Join us for a peer-to-peer discussion with those who are guiding companies and others through unprecedented change. Hear the experience and insight from business leaders — in their own words — as they navigate a new normal and plan for the future.
Speakers include: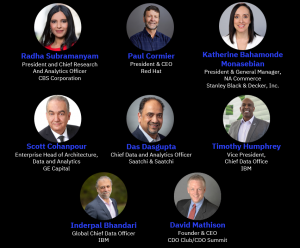 IBM and the IBM logo are trademarks of International Business Machines Corp., registered in many jurisdictions worldwide.
Having trouble? Email: jill@cdoclub.com or kristina@cdoclub.com