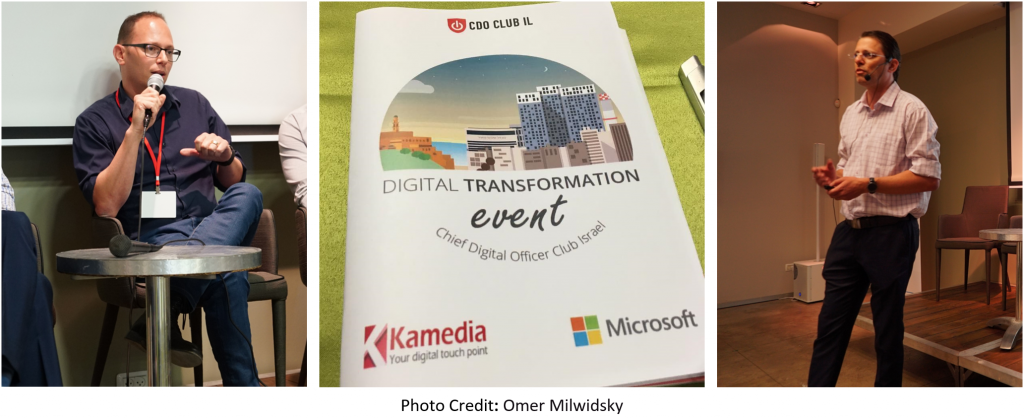 The CDO Club's Global Affiliate Partner CDO Club IL held its 3rd CDO Summit at Krypton HaKfar HaYarok in Tel Aviv, Israel on 17 May 2016.
The sold-out Israeli summit was jam-packed with interest growing in Israel, as the number of Chief Digital Officers globally has doubled every year, to over 2,000 in 2015, according to the CDO Club.
[bctt tweet="What happened at Israeli Chief Digital Officer Summit on 17 May 2016? Great job @kamamit http://wp.me/p3MCUV-401″ via="no" url="no"]
The summit gathered local digital leaders to discuss and learn innovative ways to improve digital transformation efforts and focus on the right factors to ensure success.
The event was presented by Microsoft and organized by Kamedia, WorkSpace, and the CDO Club. Partners included Mobisec, theMarker, BlogsRelease, DataTapas, Toonimo, and Pulseem.
Amit Kama, the CEO of Kamedia Digital & CDO Club IL, began the day by welcoming the sold out crowd and setting the stage for the sessions to come.
CDO Club founder David Mathison then delivered a keynote on "The CDO Revolution and the 2016 CDO Talent Map, which culminated with his tracking of CDOs who have become CEO and Board Directors, as well as an overview of the previous CDO of the Year award winners.
The first panel of the day, titled "The CDO Challenge in the new Digital vortex / Digital Leaders" featured digital executives at some of Israel's leading organizations:
Amit Kama (moderator): CEO of Kamedia Digital & CDO Club IL
Michael Mitrani: Digital Director at Super-Pharm
Omer Milwidsky: CDO at Meitav Dash
Lior Kodner: CDO at haaretz
Eti Neaman: Innovation Director at Hever Group
Following the panel, Gadi Gilon, Founder and Chairman of Mobisec Technologies, then gave a keynote on "Monetizing the Internet of Everything (IOE)"
After a brief break for networking and snacks, Amit  CEO of Kamedia Digital & CDO Club IL, returned to cover "Digital Capabilities, The Transformation Success Factor"
This was followed by a number of keynotes, including:
Adir Ron, Strategic Innovation Lead at Microsoft, covered "The Next Customer Revolution: From Customer Dialog to Digital Trialog using Microsoft Cloud Bots."
Eyal Biran, Co-Founder & CEO of DataTapas, presented on "The Digital & Data Duet."
Shay Guttman, Chief Technology and Digital Officer at UPS in Israel spoke on the topic "Winning the Last Mile with Digital API Economy."
Maya Eisen, the Chief Marketing Officer at Hogla-Kimberly spoke about "Digital Transformation In a Red Ocean."

Avi Amar: Chief Digital Officer at ISSTA gave a keynote on "Issta: A Digital Travel Revolution."
Tali Ayalon-Metser, Digital Manager at CAL covered the topic "The Digital Effect – Cost Reduction Through Customer Satisfaction."
Liraz Margalit, PhD, Director of Behavioral Analytics at Clicktale gave a fantastic, useful presentation on "How to Create Addictive Experiences."

There was a tremendous amount of interest and excitement in the room, which spilled out into the gorgeous open-air courtyard during breaks and for lunch. As usual, the networking and ability to share knowledge and experiences proved invaluable for all delegates.

See Select Israel CDO Summit Speakers: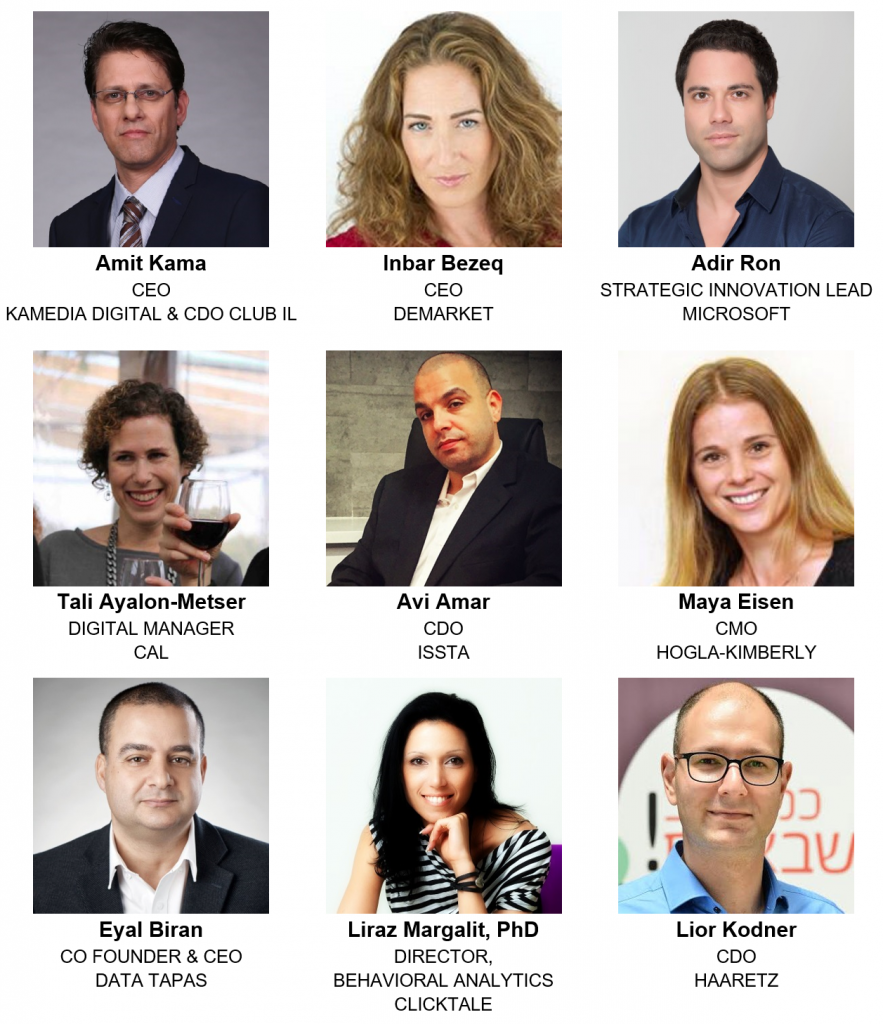 If you are tasked with understanding what digital leaders must do in order to succeed in almost any industry, the best place to learn more is at the CDO Summit.
Register today to get the Early Bird discount registration rate for the U.K. CDO Summit on September 28, 2016; and Super Early Bird discount registration rate for our inaugural Washington D.C. CDO Summit on November 16, 2016.
Want to know what to expect at CDO Summit events?
Watch this quick video to find out:

The CDO Summit is the "must-attend" digital event of the year. The 2013, 2014 and 2015 CDO Summits received stellar endorsements from dozens of speakers and attendees alike:
< More News