If you missed the first event in the series
Active Data Governance
on September 29, 2021 or want to watch it again:
Click here to get the on-demand version
This is not your grandma's governance!
Join your C-suite peers for a lively discussion about the evolution of data governance. Together we will unpack how traditional governance failed its users, and why the future of data governance must put people first.
As enterprises work to drive data culture, many are adopting a people-first approach. This new approach to data governance empowers data consumers to get the data they need, find the answers they seek, and move the business forward.
Active data governance is a modern, agile approach that focuses on supporting people who work with data. People are empowered to take responsibility for governing the data, including contributing to the repository of knowledge about the data and following guidelines, rather than adhering to rigid, prescriptive procedures.
Join your peers as we explore "Active Data Governance" on Wednesday Sept 29th from noon-1pmET:
All-star speakers include your peers:
✰ John Wills: Field CTO, Alation
✰ Michael Vapenik: Risk Executive, Data & Info Management – Enterprise Risk & Compliance, USAA
✰ Roberto Maranca: Data Excellence VP, Schneider Electric
✰ Michael Smith: Chief Data Officer, Hearst Magazines
✰ Anthony Scriffignano: SVP, Chief Data Scientist, Dun & Bradstreet
Speakers include: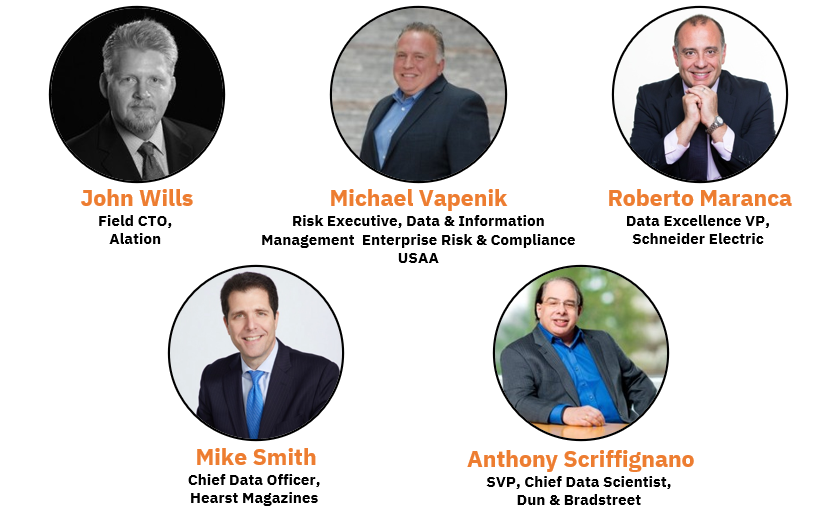 Join Alation for this and their entire "DATA FOR THE WIN: Conversations with CDOs & CAOs" series of online events and panels featuring conversations with data leaders from a range of industries.
You'll learn from their strategies and struggles, and get actionable advice for cultivating data culture within your own organization. 
Data culture can transform a lagging business into a leading enterprise. Today, CDOs and CAOS are taking the reigns and fostering data culture for their communities.
Alation and the Alation logo are trademarks of Alation, registered in many jurisdictions worldwide.
                 Having trouble with registration? Email: jill@cdoclub.com