If you missed the second event in the IBM CDO/CTO Summit Series
Using AI to Reinvent the Enterprise

on April 13, 2022 or want to watch it again, check it out below:
AI can be a catalyst for new thinking—a means to accelerate top-line impact, address disruption, and unlock new market opportunities.
Together with you, we'll explore:
Why is AI important for value creation?

Examples and use cases?

How AI adoption helps companies boost profitability, increase efficiency, and deliver more business value?

How are companies using AI to reinvent their business?

Why are companies hiring dedicated Chief AI Officers?

What are their responsibilities and priorities in 2022, and going forward?

Regulations: Inevitable? What can we expect, and how should we prepare?
Speakers include: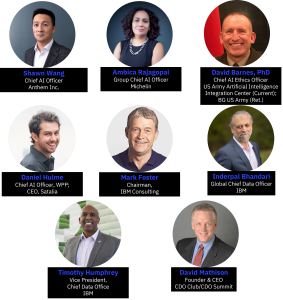 IBM and the IBM logo are trademarks of International Business Machines Corp., registered in many jurisdictions worldwide.
Having trouble with registration? Email: jill@cdoclub.com or kristina@cdoclub.com