If you missed the final event in the Alation "DATA FOR THE WIN" series
"Alation Global CDO Summit"
on March 2, 2022 or want to watch it again, check it out below:
If you missed any or all of the prior Alation's "Data for the Win" events, you don't want to miss this one!
Join us for the 2nd annual Alation Global CDO Summit, as we re-cap the four previous events this year:
The event features an opening keynote from Alation and three panels with digital, data, and analytics leaders. 
Be sure to stay till the end, when we'll announce the winner of the CDO Club 2021 US "Chief Digital Officer of the Year" award.
Speakers include: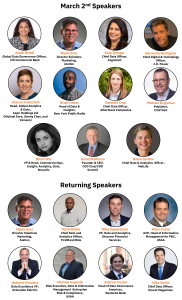 Alation and the Alation logo are trademarks of Alation, registered in many jurisdictions worldwide.
                 Having trouble? Email: jill@cdoclub.com