Thank you for downloading your copy of the Chief Digital Officer Talent Map 2013.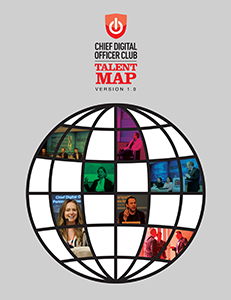 Download information is being sent to the email address that you just provided to us.
In that email, you will receive a link to download the document.
The link is only valid for 48 hours, so be sure to download it as soon as possible!
If you have any questions, please feel free to contact us at info@CDOClub.com, or call (516) 488-1143.
I would love to hear your feedback on this report!
CDO SUMMITS:
We hope that you will join us at the next CDO Summit:
SPONSORSHIP OPPORTUNITIES
If you are interested in getting your message in front of our elite, digital demographic, sponsorship opportunities are available for the CDO Summit, CDO Club, and future editions of the CDO Talent Map.
For more information, visit our Sponsor Portal, or email info@CDOClub.com.
TAKE ME HOME
To go back to our main home pages, take me to the CDO Club or the CDO Summit.
THANK YOU FOR SHARING
Thanks again for investing in your future by downloading the inaugural Chief Digital Officer Talent Map.
If you like it, we hope you'll share this document with your friends using the social media links below – or the old fashioned way – word of mouth 😀