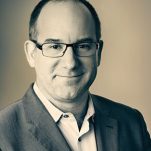 Ben Edwards
VP Global Comms & Digital Marketing
IBM
Ben Edwards is Vice President of Global Communications and Digital Marketing at IBM. In this role, Ben has worldwide responsibility for IBM's communications function, including corporate and business unit communications, global advertising, media, and brand architecture and design.
Ben also leads Digital Marketing at IBM, including IBM-branded experience design & development, digital services/API development, enterprise social business strategy & services and enterprise content strategy & services, all in partnership with IBM's office of the CIO.
For the past three years, Ben has led the strategy, design and development of IBM's marketing and communications capabilities within the digital realm, including web, mobile and social media. In partnership with IBM's office of the CIO, Ben founded the IBM Design Lab in 2012.
Prior to this role, Ben was Executive Vice President of The Economist Group. In this role, he set the digital strategy for properties within The Economist brand family and was responsible for the global P&L of The Economist online.
Prior to joining The Economist Group, Ben was Director of New Media Communications at IBM. Before IBM, Ben enjoyed a 15-year career as a financial journalist at Euromoney Publications and at The Economist.
Ben holds a BA degree from the University of Oxford and received his Postgraduate Certification in Economics from the University of London.