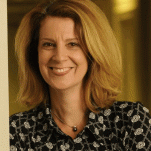 Christine Montgomery
Chief Digital Officer
The Center for Public Integrity
Christine Montgomery is Chief Digital Officer at the Center for Public Integrity in Washington, D.C.
She previously served as Managing Editor of PBS.org, Managing Editor/Director of Electronic Publishing for the St.Petersburg Times' digital properties, and made the transition from print to digital in 1999, when she became a Deputy Managing Editor for USATODAY.com.
Prior to that, she had been a reporter and editor in Florida and Washington, D.C.Christine holds a journalism degree from the University of Florida, and an M.A. in writing from Johns Hopkins University.
She is past-president and a current Board of Director for the Online News Association