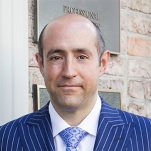 Jay Rosenzweig
CEO
Rosenzweig & Company Executive Recruitment
Jay is the founder of leading global recruitment firm Rosenzweig & Company, a partner to the Chief Digital Officer Club and Summit. He consults to a wide range of public and private companies including large global corporations; small to medium-cap businesses; private equity and venture capital firms in the development of world-class leadership teams and boards. He offers deep cross-functional and cross-sector experience, with a track record of having successfully recruited "C" level (CEO, COO, CMO, CDO, CFO, CLO, CIO) for his broad client base.
Prior to joining the search industry, Jay was in the field of law, which included exposure to corporate/commercial litigation, criminal defense, and human rights work.
Jay earned a B.A. in Philosophy from McGill University and then went on to graduate from its law school where he obtained both Civil Law (B.C.L.) and Common Law (LL.B.) Degrees through the four year National Program. He also completed Roger Fisher's Negotiation Program at Harvard Law School.