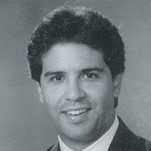 Jose L Tamez
Managing General Partner
Mobile Search Partners
Mr. Tamez has served with such Fortune 50 companies as Kraft Foods and Exxon Mobil. Along with his role as Managing General Partner at Mobile Search Partners, he is Managing Partner for Austin-Michael, a nationally recognized executive search firm.
His practice is comprised of Fortune 100 and 500 companies as well as private held and venture-backed concerns. Geographically, he performs searches in The United States, Canada and Latin America. A significant share of his assignments have been for key executive positions in Marketing, Digital, Mobile, Merchandising, IT, Finance, Real Estate and Administration.
Mr. Tamez is a contributor and ongoing source to The Wall Street Journal, Bloomberg News and Supermarket News on issues concerning the job market. Beginning in 2014 he will be writing monthly articles for the National Retail Federation on talent acquisition issues within Mobile and M-commerce. He is currently advising Northwestern University, Georgia Tech University, The University of Washington and NYU in regards to their Continuing Education programs in Mobile. He holds a Bachelor of Science degree from Texas A&M University and will continue his coursework through Stanford University's Executive MBA Program.