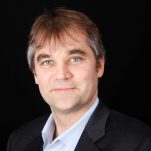 Thomas Gewecke
EVP & CDO
Warner Brothers
Thomas Gewecke was named CDO and EVP, Strategy and Business Development, Warner Bros. Entertainment in May 2013. In this position, he is responsible for driving the Studio's worldwide digital growth and managing its global business strategy. Gewecke is charged with coordinating the company's various digital distribution strategies to maximize the value of Warner Bros.' content across all current and emerging digital exhibition platforms. He also oversees Warner Bros. Technical Operations and Corporate Business Development as well as Warner Bros. Home Entertainment's Direct-to-Consumer, Business Development and Flixster groups.
Prior to his current role, Gewecke served as President of Warner Bros. Digital Distribution. Under Gewecke, WBDD expanded its global footprint to make the Studio's movie and television content available for transactional purchase in every major market, through more than 100 digital retail partners. Gewecke oversaw the Studio's May 2011 acquisition of Flixster and Rotten Tomatoes.
Gewecke joined WBDD from Sony BMG Music Entertainment, where as Executive Vice President, Global Digital Business he was responsible for worldwide digital business development efforts and oversaw the creation of new digital ventures.
Prior to Sony BMG, Gewecke was Senior Vice President of Business Development in the Digital Services Group for Sony Music Entertainment, Inc, where he founded and led its mobile business. Gewecke also held the position of Publisher of the PC World Online Network at International Data Group.