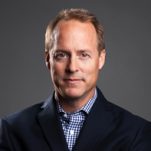 David Payne
Chief Digital Officer
Gannett Co., Inc.
David A. Payne was named Senior Vice President and Chief Digital Officer of Gannett Co., Inc. in March 2011. He also serves on the Gannett Leadership Team.
David joined Gannett from ShortTail Media, Inc. where he served as President and CEO of the video ad technology start-up he co-founded in 2008.
Prior to ShortTail, David was Senior Vice President and General Manager of CNN.com, which produced and distributed all of CNN's digital services, including CNN.com, CNN Mobile, CNN.com Live, and CNN Video on Demand from 2004-2008.
During his 15-year career at Turner Broadcasting, David also served as Senior Vice President of Business Operations and Development of CNN (2001-2004); Senior Vice President and General Manager of CNN/Sports Illustrated Interactive (2000-2001); Vice President of Legal & Business Affairs for Turner Sports and Vice President/Team Counsel for Turner Sports Teams (1994-2000); and as Counsel for Turner Entertainment Group (1993-1994).
Prior to joining Turner, David served as an Assistant U.S.
Attorney in the U.S. Attorney's Office in Washington, DC, and he was an associate in Gibson, Dunn & Crutcher's Washington, DC office.
David holds a law degree from Duke University School of Law (JD with Honors), and received his Bachelor's of Arts degree, cum laude, in Public Policy Studies, from Duke University