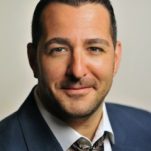 Fred Santarpia
Chief Digital Officer
Condé Nast Entertainment
Fred Santarpia has been Executive Vice President and Chief Digital Officer (CDO) at Condé Nast Entertainment Group since July 2012.
From 2009 – 2012, Fred was a member of the founding executive team at VEVO, where as General Manager he was responsible for all operations.
Fred was previously Vice President, Operations & Finance at Universal Music Group's Global Digital Initiatives/eLabs division, where he was responsible for the expansion and operation of UMG's digital media business across its network of artist & label web properties and syndicated affiliates.
Fred has also held senior roles in the UMG Finance and Technology organizations.
He began his career at Arthur Andersen.
Fred holds a M.S. from Boston University and a B.S. from Villanova University.