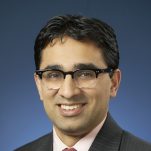 Mehul Nagrani
SVP & GM, Digital
Univision Communications Inc
Mehul Nagrani is senior vice president & general manager, Digital, Univision Communications Inc., the leading media company serving Hispanic America. In this capacity, he leads efforts surrounding UVideos and Digital Music, and works closely with Univision Network and Univision Radio to lead the development and implementation of Uforia, Univision's digital music strategy.
Nagrani's responsibilities include leadership of Univision's Product and Technology teams, as well as Revenue Operations and Analytics. He also works closely with the Content organization to ensure that Univision achieves the optimal content mix of long-form and short-form content to reach our audience in new and innovative ways. Additionally, Nagrani works closely with Univision's Sales and Finance teams. Mr. Nagrani most recently served as special assistant to the CEO. He was a key member of the leadership team driving cross-divisional initiatives and collaboration across Univision. While at the Office of the CEO, he created a program to attract young leaders to work at Univision and many of these executives now have roles in Programming, Distribution, Social Media and Ad Sales.
Prior to joining Univision in 2011, Mr. Nagrani worked within the Media/Tech practice at McKinsey and also designed memory chips at Micron and processors at Intel.