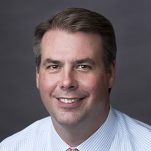 Dan Suratt
EVP, Digital Media & Business Development
A+E Networks
Dan Suratt is Executive Vice President, Digital Media and Business Development, A+E Networks, a position he held at Lifetime Networks beginning in June 2006 until its acquisition by A+E Networks in 2009. Based in New York, he reports to Nancy Dubuc, President & CEO, A+E Networks.
Suratt, who has won six Emmy® Awards, is responsible for all strategic, operational and editorial functions, business development efforts and digital distribution negotiations for A+E Networks, as well as the broadband and mobile elements of A&E, History, H2, Lifetime, Lifetime Movie Network and BIO. Suratt leads many of A+E Networks' digital partnerships with content aggregators and other digital delivery services, including Hulu and YouTube.
Under Suratt's leadership, A+E Networks tripled site traffic to more than 30 million unique visitors per month, emerged as a leader in social games with properties like Pawn Stars: The Game – played more than 450 million times on Facebook, established the Lifetime Moms blog network, executed numerous industry-leading social TV campaigns and garnered several Webby Award nominations and an induction into the Apple iPad Hall of Fame. Suratt was named to Multichannel News' 40 Under 40 list in 2011 and CableFAX's Digital Hot List in 2011, 2012 and 2013.
Prior to joining Lifetime, Suratt was Vice President, Business and New Media Development at NBC Olympics, a position he held through the 2004 Summer Games in Athens, Greece, and the 2006 Winter Olympics Games in Torino, Italy. Suratt joined NBC in 1995 as the lead Production Associate for the 1996 Summer Games in Atlanta, Georgia. He also held positions as Director of Business Development and as Producer for the 2000 Summer Games in Sydney, Australia, and 2002 Winter Olympic Games in Salt Lake City. During the 2002 Winter Games, he managed and booked the Olympic Medals Plaza musical acts, featuring marquee performances from the Dave Matthews Band, Foo Fighters, Sheryl Crow and 'N Sync, and dubbed "the hottest ticket" around by USA Today and Access Hollywood.
After the 1996 Atlanta Summer Olympics, Suratt earned an Emmy for the 1997 NBA on NBC Finals coverage – and the 1997 National League Championship Series and World Series broadcasts. He also developed and executed programming for special events, including the 2001 NBA Finals U2 Live performance and The Weakest Link special episode during halftime. Suratt began his career with the NBA in 1993.
Suratt graduated from Middlebury College in Vermont with a Bachelor of Arts degree and received his Master of Business Administration from New York University's Stern School of Business. He serves on the board of the Online Publishers Association (OPA) and acts as an advisor to a number of early stage startups, including Flingo, Broadcastr and Collector's Quest.