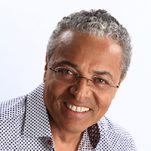 Kym Yancey
CEO
Live Happy
Kym Yancey is the Co-Founder and CEO of Live Happy, a company dedicated to promoting and sharing authentic happiness through education, integrity, gratitude and community awareness. He is recognized as one of North America's premier marketing and innovation thought leaders. He has a legacy of success and brings an avalanche of creativity, passion and business savvy to everything he touches.
Prior to Live Happy he founded and was the Chief Marketing Officer and President of eWomenNetwork, a private membership community for business women and entrepreneurs with over 500,000 women connected through 118 chapters across the U.S. and Canada. Kym is also a gold record earning composer/producer. He was with Capitol Records, where he performed as the drummer and one of the singers with the legendary funk band "SUN", frequently appearing on Soul Train and in sold-out concerts throughout North and South America in the 70s and early 80s.
He parlayed his music skills into advertising and launched one of the top multicultural advertising agencies in the U.S. and along the way he became a national award-winning jingle writer and the recipient of more than 200 creative awards of excellence. As a finalist for Inc. Magazine's "Entrepreneur of the Year" and countless other top business achievement awards, Kym understands the twist and turns that we all face with our business and personal lives. How happy are you? You are about to get Happier!