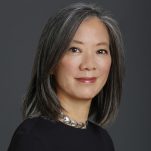 Lisa Hsia
EVP of Digital
Bravo and Oxygen Media
Lisa Hsia is Executive Vice President of Bravo and Oxygen Digital Media, overseeing Bravo and Oxygen's digital businesses including BravoTV.com and Oxygen.com as well as their initiatives on emerging platforms – mobile, apps, gaming, social TV and multiplatform programming. During her tenure at NBCU, Hsia has built digital media into an interactive powerhouse with breakthrough innovations that include Bravo Now, the first ever tablet/smart phone co-viewing companion experience, the Emmy winning Last Chance Kitchen, the ambitious transmedia initiative for "Top Chef" and PlayLive, a new form of participation TV.
Hsia was recently included in the 2013 Broadcasting & Cable Digital All-Stars List, 2013 CableFax Digital Hot List and named one of Cynopsis Media's Most Intriguing People of 2013. Additionally, Hsia was honored as one of the "Top Women in Cable" by CableFAX in 2013 and as a "Media Maven" by Ad Age in 2011. Bravo and Oxygen Digital has been recognized with numerous awards including a 2013 Prime Time Emmy for achievement in Multiplatform Storytelling, a Webby Award, Media Vanguard Award, Mobile Excellence Award, Mobile Marketing Association Award, ITVT Award and nine Prime Time Emmy nominations for Interactive and Non-Fiction Content.
Previously, Hsia served as Vice President of NBC News, where she had executive oversight for the "Today" show, "Dateline" and the long-form programming unit Peacock Productions. An NBC News veteran of eleven years, she previously worked for ABC News from 1989-92.
Hsia is a graduate of Harvard University and has a MBA from Columbia University. She lives in Manhattan with her husband and son.