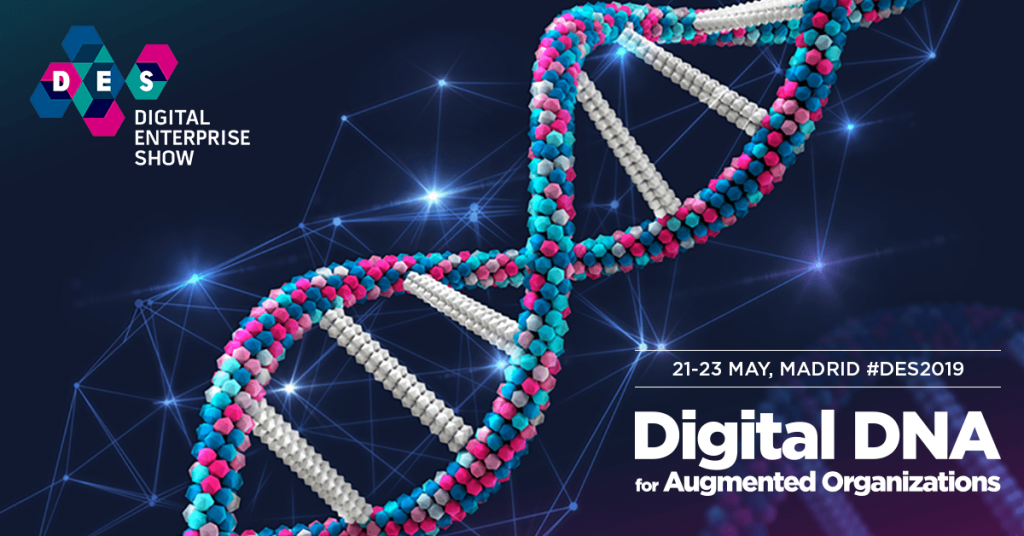 On May 21-23 2019 in Madrid, Spain, the fourth annual Digital Enterprise Show (DES 2019) featured more than 500 speakers, 300 exhibiting firms, and 26,342 visitors from over 50 different countries.
As part of the three-day event, the first-ever Spanish CDO Summit was held on Wednesday May 22nd in the R-Evolution Theatre by Deloitte Digital. See the CDO Summit Madrid agenda here, and more detail below.
To start the program, CDO Club founder David Mathison keynoted on '101 CDOs Who Became CEO,' based on a CDO Club/Bain Capital report which explored the backgrounds of individuals who successfully made the transition from CDO to CEO. He reviewed the skills required, and challenges to overcome, when making this career move.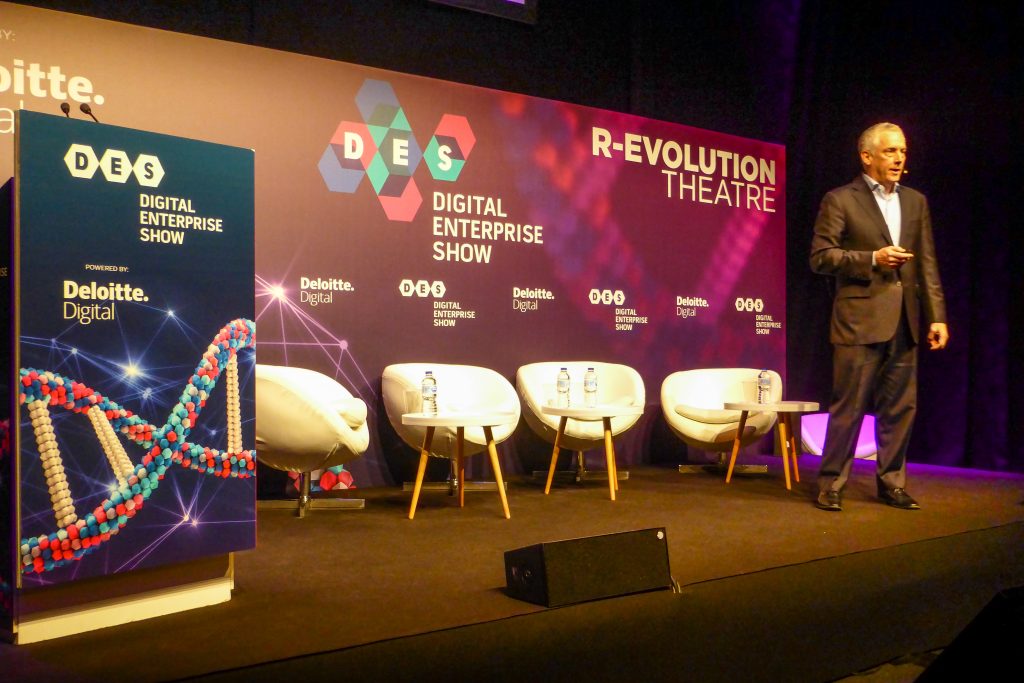 Mathison then introduced Patrick Hoffstetter, a recognized digital transformation expert, former CDO of Renault, senior Advisor at Bain&Company and CEO at Newmedia360, who talked about his vision of technological solutions for corporates to harness digital transformation projects in a keynote titled "Elephants, horses & zebras: Making digital simpler with DXP to connect the dots."
Starting with a quick overview of current digital transformation corporate strategies, he expressed his view on suite technology implementation and the necessity to bring more simplicity to technological projects by leveraging solutions like DigitalExperiencePlatform to connect the different dots of your ecosystem.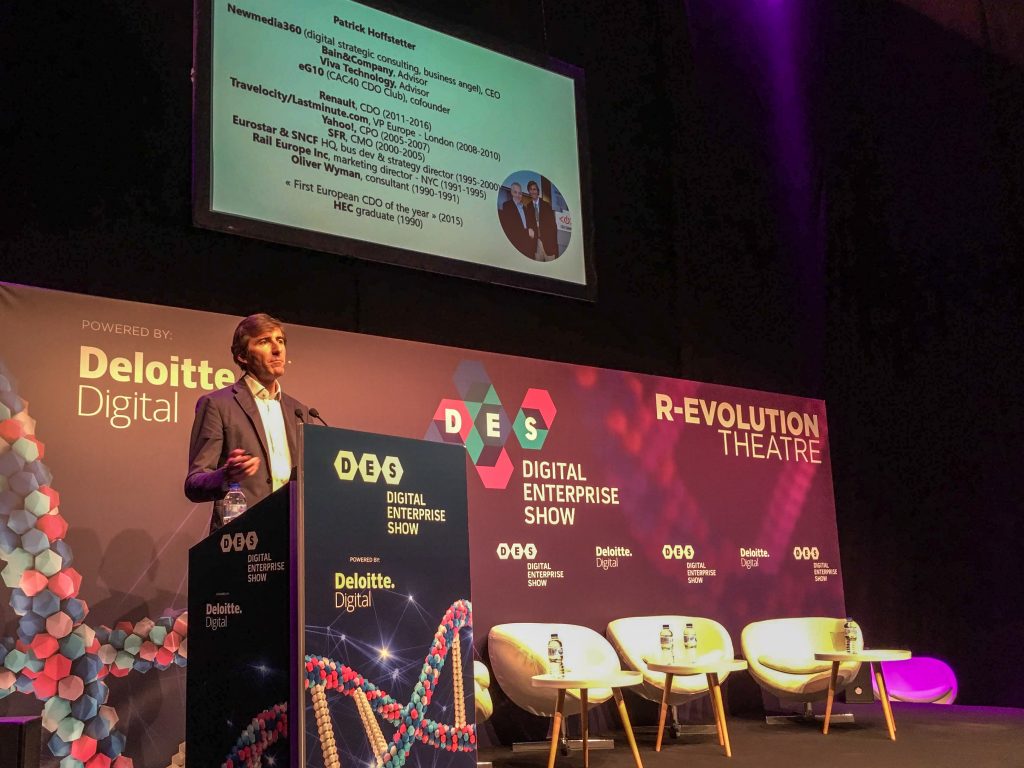 Following Patrick, the first panel of the day was a deeper examination of the opening keynote, on "The rise of the new CDO: From 'digital transformation' leader to CEO/President."
Organizations are increasingly seeking CDOs with strategy, operations, finance, as well technology backgrounds. Companies are hiring CDOs now to build new businesses and amplify and strengthen existing ones. New CDO hires are also now part of CEO succession planning. Companies need seasoned veterans who not only understand and can manage the disruptions enabled by technology, but also leaders with experience in building new businesses and transforming entire organizations. This session explored the skills and backgrounds required for CDOs to succeed, now and in the future.
Panelists included:
David Mathison (moderator): CEO & Founder at CDO Club/CDO Summit
Alejandro de Zunzunegui Ruano: Chief Digital & Transformation Officer at BUPA (Sanitas)
Nuno Borges: Director, Analyst & Customer Research at Outsystems
Alberto Salviejo: CDO Europe at Cemex
Shawn Fitzgerald: Research Director, World Wide Digital Transformation Strategies at IDC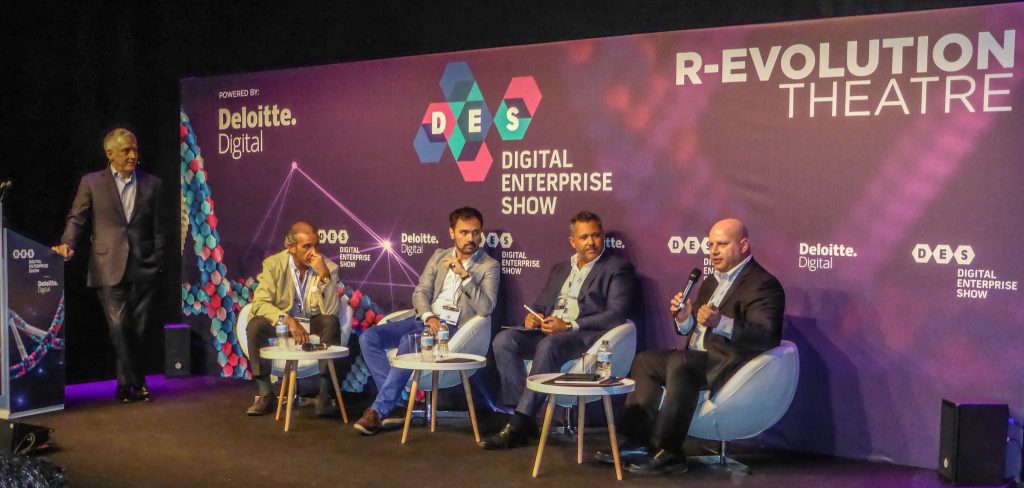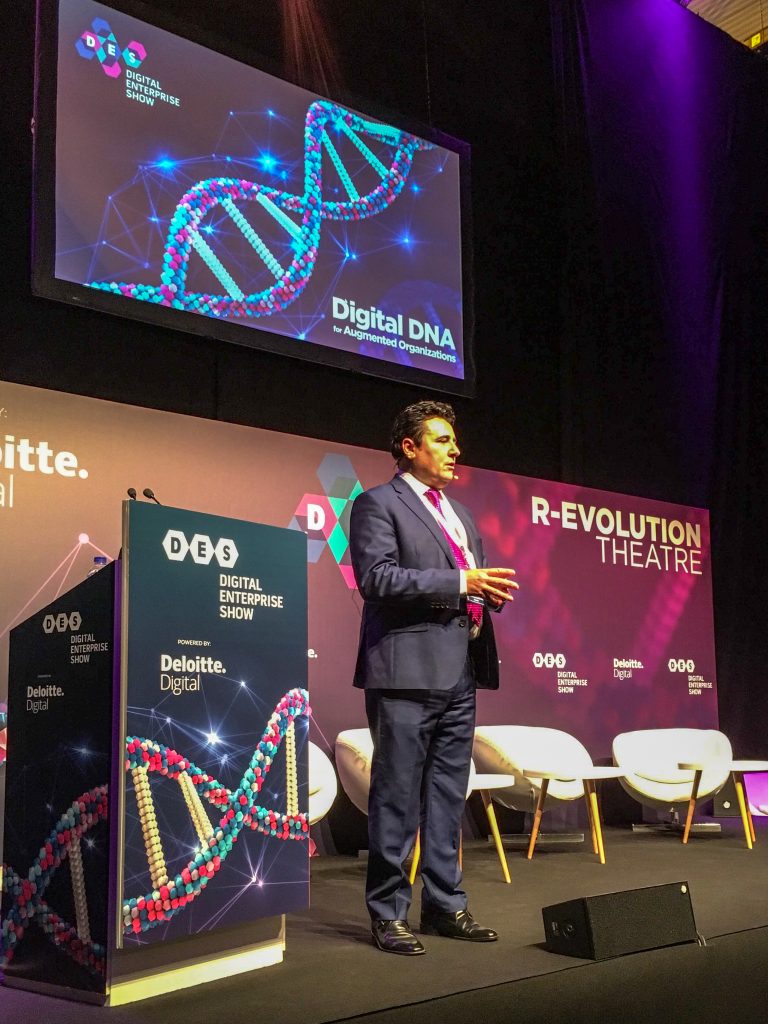 Following the panel, Franck Lopez, Vice President Iberia at UiPath, keynoted on "Why is 'Automation' the Future of Work?" Franck examined how digital transformation has changed the workplace, the workforce, and the nature of work itself. He explained how RPA can make the future of work accessible to every employee, and why every enterprise should start their digital transformation with RPA.
Adopting an "automation first" mindset enables your company to move faster and more effectively. It helps you serve customers better. It enables you to operate more efficiently. Most important of all, it unburdens your employees from mundane, repetitive work, allowing them to focus on solving problems and creating value.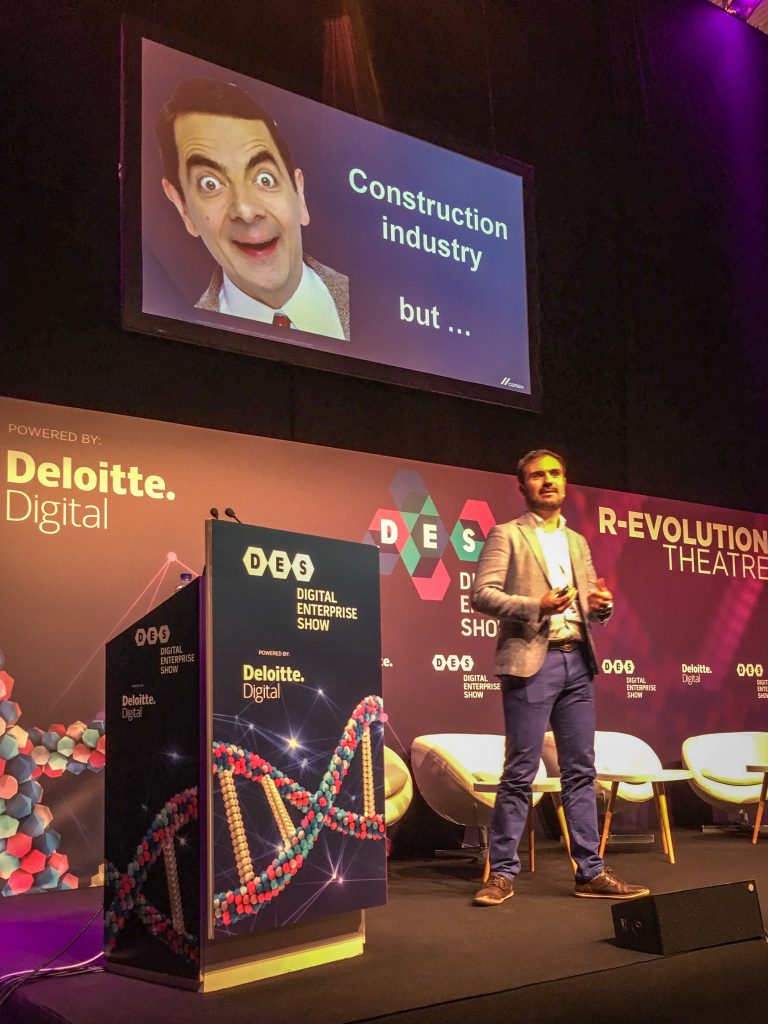 Following Franck, the next speaker was Alberto Salviejo, the Chief Digital Officer Europe at Cemex, who keynoted on "Digital transformation in the Construction industry: getting it done."
Alberto's presentation covered B2B customerization in construction, understanding how to communicate and deliver value to customers, employees and shareholders, the cultural challenges around data transparency, job changes, and employee engagement, and how to make change stick.
Alberto was followed by Christophe Bardy, Solution Strategist EMEA at Nutanix, who spoke on "Empower your Digital Journey." Today, Christophe argued, enterprises need a truly agile IT Infrastructure to empower their Digital Transformation. With Nutanix, customers can realize the simplicity, agility, and fractional IT consumption benefits of the public cloud, with the control and security required in the enterprise datacenter. A unified IT operating environment delivers a high-performance, seamless experience for both cloud operators and consumers of cloud-delivered services and applications.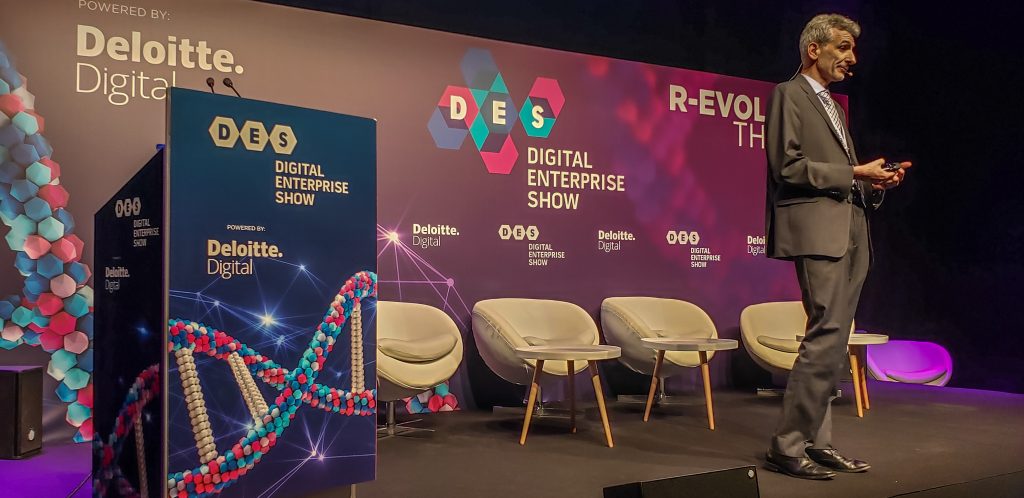 After Christophe, Shawn Fitzgerald Research Director, World Wide Digital Transformation Strategies at IDC keynoted on "Digital Transformation and the CDO," which shared IDC's thought leadership on how successful organizations are investing and transforming themselves to realize digital at scale, the areas and activities that CDOs ought to be thinking about, providing leadership on, and guiding their organizations through this transformation journey.
Digital transformation represents the single largest business shift since the industrial revolution. IDC forecasts $6.6 trillion of direct DX investment in related hardware, software, and services through 2022. Out of these investments, CEOs expect to see over $18 trillion of economic value-add from digitally enabled products, services, and operating capabilities. Key among the digital technology investments are cloud, big data and analytics, cognitive computing/artificial intelligence, and IoT. In addition to these technologies, successful transformation will engage people, process, data, and governance for sustaining digital at scale.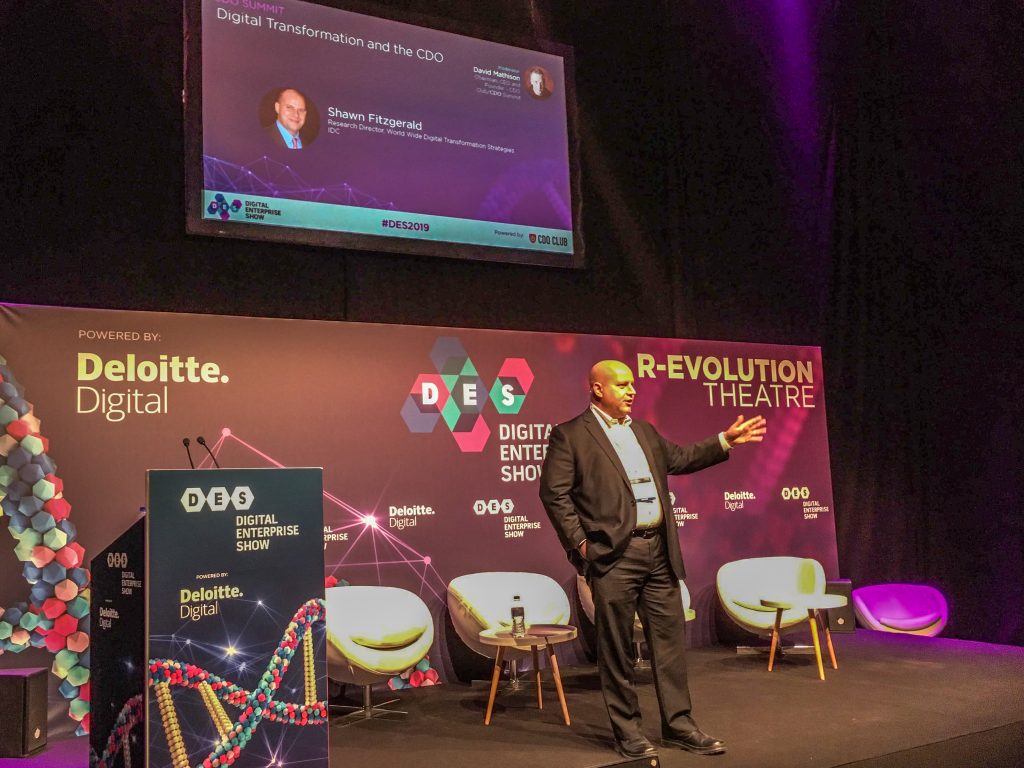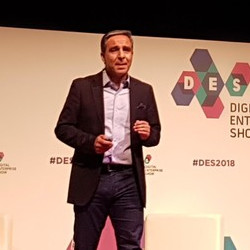 The penultimate session was given by Víctor Magariño Peñalba, Faculty, Board Advisor at ESADE – NYU Stern, who keynoted on "The (half) truths of Digital Transformation." Victor argued that we now live in a world of Digital Transformation systematic bombarding, to the point most people have started to feel 'digital fatigue.' Gurus and researchers make all kinds of predictions: Retail apocalypse? Hibrid cloud computing? Ubiquitous Blockchain? Voice assistants? AI powered smart machines running the World? Quantum supremacy? Is privacy still attainable these days?
This short and informative session helped delegates discover what is really relevant and meaningful now, and what may be put in perspective for the time being.
The closing keynote of the day was by Dan Kragt, Director at K-ite, on "The Amazing 50+ Factor for Mind-Blowing Transformation." The key to a great digital transformation journey is bringing together different generations by leveraging the (business) knowledge of the more experienced, and providing guidance to the fresh look and up-to-date (digital) skills of the more recent joiners. Also, writing-off or sidelining those that are 50+ years young in this process can be a unforgiving mistake, when not only their input is precious, but mostly their buy-in (with a large part of senior management being part of this age group) is vital to assure enthusiasm throughout the organisation. The 50+ need to be part of the team that leads, guides, coaches and inspires on the bumpy road of (digital) transformation.
The event concluded with a digital awards ceremony and dinner:

Many thanks to the organizers of this incredible annual event for including us in the program and agenda, especially Lluis Altes and Sonia Pacheco, and their team!