The hiring of Chief Digital Officers continues apace, with new hires over the last 30 days at McDonald's, IDG Communications, Axa Insurance, the City of Vancouver, and more.
These new positions underscore the importance of Chief Digital Officers across all industries – not just advertising, media, and publishing – but also in sectors typically slow to adopt new technology such as restaurants, municipalities, and regulated industries such as insurance, banking, and finance.
As discussed in the upcoming Chief Digital Officer Talent Map 2013, these recent hires also fit the profile of the "typical" Chief Digital Officer. Of course, optimal skill-sets will differ by sector, but overall, CDOs are generally professional leaders and business builders with digital DNA who have P&L responsibility and backgrounds in General Management, Corporate and Business Development, entrepreneurial disruption, and the ability to get buy-in from multiple stakeholders across company silos.
For example:
The new, first-ever CDO at McDonald's, Atif Rafiq, was most recently General Manager of Kindle Direct at Amazon. Before that he was General Manager at Yahoo! and founding member of the Corporate Strategy and Business Development groups at AOL. He had P&L responsibility for $400MM in annual sales, and was founder/CEO of a venture-backed firm where he raised over $10 million.
In September, IDG Communications named Peter Longo as Chief Digital Officer. In this role, Peter is responsible for digital strategy and operations for IDG Consumer & SMB, IDG Enterprise, and the IDG TechNetwork. Peter continues his role and keeps his title as CEO of IDG TechNetwork. He was previously President of Zinio Systems and an EVP with Ziff Davis.
The new CDO at Axa Insurance previously held global business development and senior marketing and category roles at Colgate Palmolive and Reckitt Benckiser.
Another new CDO in the insurance industry was hired in September at April, the French multi-specialist global insurer, with a similar profile.
The new Chief Digital Officer for the City of Vancouver formerly held global channel systems development and digital channel development positions at HSBC Technology and Services.
If you are looking to hire a Chief Digital Officer-type role, or you are an individual who wants to become a CDO, our Executive Search service helps companies and organizations find qualified digital leaders with the proper cultural fit.
---
NOTE: The CDO Club is now a membership site. You'll need to register in order to continue enjoying our posts. To register or for more information, click here. 
If you are tasked with understanding what digital leaders must do in order to succeed in almost any industry, the best place to learn more is at the fast-approaching NYC Chief Digital Officer Summit, presented by Capgemini on April 29 2015.
Take advantage of our Super Early Bird Discount  for New York City in April 2015, Amsterdam in July 2015, Toronto in September 2015, London in October 2015, and Sydney in February 2016.  Reserve your place now: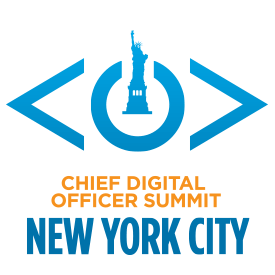 NYC 2015 Speakers:
Dr. Didier Bonnet
SVP and Global Practice Leader
Capgemini Consulting

Jessica Federer
Chief Digital Officer
Bayer

Jo Ann Saitta
Chief Digital Officer
The CDM Group

Johanna Murphy
CMO & Digital Director
Ivanka Trump

Sree Sreenivasan
Chief Digital Officer
Metropolitan Museum of Art

Sumita Singh
Senior Vice President
Marketing, Corporate Markets
Elsevier
The CDO Summit is the "must-attend" digital event of the year. The 2013 and 2014 CDO Summits received stellar endorsements from dozens of speakers and attendees alike:
< More News