Rachel S. Haot, Chief Digital Officer and Deputy Secretary for Technology at New York State, was named Chief Digital Officer of the Year 2014 by the CDO Club.
The award was presented by CDO Club founder David Mathison after her keynote presentation on April 22, 2014 at the CDO Summit at the Time Warner conference center in New York City.
Haot is only the second CDO – and the first female CDO – to be awarded this recognition.
The winner of the inaugural 2013 CDO of the Year award was Teddy Goff, who served as Digital Director at Obama for America in 2008 and 2012 (press release).
As Chief Digital Officer and Deputy Secretary for Technology at New York State, her focus is to realize Governor Andrew Cuomo's vision for the State by improving the way that government and the public engage online, and supporting collaborative innovation with the technology community.
Haot had previously served as the Chief Digital Officer for the City of New York in Mayor Michael Bloomberg's administration from January 2011 through December 2013. While there she established the first urban digital roadmap in the country, and by October 2013 the city achieved 100% of the roadmap's stated objectives.
Haot's many recognized accomplishments while serving as CDO for the city included the overhauling of the official New York City website (nyc.gov); tripling New York City's social media audience; and expanding the NYC OpenData platform from 350 public data sets offered at launch to over 2,000.
Her success has been recognized and written up in a wide variety of media, including The Atlantic, the Huffington Post, and many others.
Watch Rachel's fireside chat on "Improving government and public engagement through digital innovation"  from the recent CDO Summit below:
Her past achievements have included the founding of GroundReport, a pioneering global citizen journalism platform; launching and running Upward, a digital strategy consultancy; and teaching as an adjunct professor at the Columbia University Business School.
Rachel is a World Economic Forum Young Global Leader, and digital advisory board member for Women@NBCU. She has been named a '40 Under 40' leader by Crain's, Forbes and Fortune.
She also took the second spot in the CDO Club's listing of Top Ten Chief Digital Officers on Twitter, and was named third most influential Chief Digital Officer by Klout score.
CDO Club founder David Mathison said that "Rachel is equal parts inspirational leader, loyal staff member, responsible and accountable colleague, and dedicated public servant. We are fortunate that Rachel chose to put her incredible talent and energy towards public service, and improving engagement and innovation between the government and its citizens."
The CDO Club will feature a two-part series based on Rachel's discussion, "Improving Government and Public Engagement Through Digital Innovation," so stay tuned.
---
NOTE: The CDO Club is now a membership site. You'll need to register in order to continue enjoying our posts. To register or for more information, click here. 
If you are tasked with understanding what digital leaders must do in order to succeed in almost any industry, the best place to learn more is at the fast-approaching NYC Chief Digital Officer Summit, presented by Capgemini on April 29 2015.
Take advantage of our Super Early Bird Discount for Amsterdam in September 2015, London in October 2015, Sydney in February 2016, and Toronto in July 2016. Reserve your place now: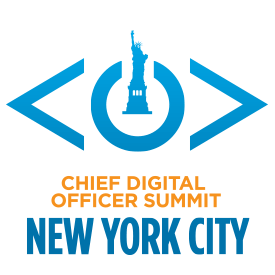 NYC 2015 Speakers:
Dr. Didier Bonnet
SVP and Global Practice Leader
Capgemini Consulting

Jessica Federer
Chief Digital Officer
Bayer

Jo Ann Saitta
Chief Digital Officer
The CDM Group

Johanna Murphy
CMO & Digital Director
Ivanka Trump

Sree Sreenivasan
Chief Digital Officer
Metropolitan Museum of Art

Sumita Singh
Senior Vice President
Marketing, Corporate Markets
Elsevier
The CDO Summit is the "must-attend" digital event of the year. The 2013 and 2014 CDO Summits received stellar endorsements from dozens of speakers and attendees alike:
< More News