Did you know that, on average, consumers won't wait more than 76 seconds if they need help during their online journey before they abandon your site for another?
Today's savvy consumers want access to information and support instantly, and if they don't find what they need quickly, they will look for it somewhere else.
Every online interaction is an opportunity for a business to know more about its customers and improve its digital engagement strategy.
By combining customer online shopping data with predictive analytics, businesses can elevate the customer experience, by providing the right assistance at the right time, or by personalizing the shopping experience with content most likely to match the customers' preferences.
"The digital era is massively depersonalizing, so anytime brands can engage their customers with a more personalized, human touch, it makes a meaningful difference," said Anurag Wadehra, Chief Marketing Officer at LivePerson.
"Our customers continuously push us to develop innovative ways to help them connect with consumers, and this research validates our belief that no matter how connected today's consumers are, they still crave real-time, human communication with brands online, and they want it on the go, from the channel they are in."
Throughout the digital journey, there are particular points when consumers are more likely to need help or guidance in order to reach their goal.
If brands identify and anticipate consumer needs in these moments that matter most and engage them right away, they can better help the consumer to reach their goal.
If they fail to provide the right support or engagement, they risk losing that customer altogether.
According to a consumer survey, the most critical moments in the customer journey when assistance is needed include: when a consumer has a specific question about a product or service they want to buy (42%), as well as the actual moment of purchase, with 35% of respondents saying that they need help or support at that stage.
And even after the purchase has been made, consumers want access to help or support when they have a problem with the product after they receive it (35%).
A one-size-fits-all approach to online experience just isn't cutting it anymore. Companies are spending millions of dollars driving visitors to their website, but only a small fraction of their budget is spent optimizing the experience for those visitors. Best-in-class companies that are able to engage live when the stakes are high have successfully converted more of their existing visitors by at least 20%, while increasing average order value by 35%.

 Join LivePerson's Head of Product Marketing, Alon Waks, in his April 22nd session at the Chief Digital Officer Summit, Convert More Visitors to Customers—Secrets to High-Impact Targeting, to learn how to get your business ready for high-stakes engagement.
---
NOTE: The CDO Club is now a membership site. You'll need to register in order to continue enjoying our posts. To register or for more information, click here. 
If you are tasked with understanding what digital leaders must do in order to succeed in almost any industry, the best place to learn more is at the fast-approaching NYC Chief Digital Officer Summit, presented by Capgemini on April 29 2015.
Take advantage of our Super Early Bird Discount  for New York City in April 2015, Amsterdam in July 2015, Toronto in September 2015, London in October 2015, and Sydney in February 2016.  Reserve your place now: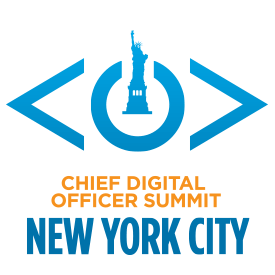 NYC 2015 Speakers:
Dr. Didier Bonnet
SVP and Global Practice Leader
Capgemini Consulting

Jessica Federer
Chief Digital Officer
Bayer

Jo Ann Saitta
Chief Digital Officer
The CDM Group

Johanna Murphy
CMO & Digital Director
Ivanka Trump

Sree Sreenivasan
Chief Digital Officer
Metropolitan Museum of Art

Sumita Singh
Senior Vice President
Marketing, Corporate Markets
Elsevier
The CDO Summit is the "must-attend" digital event of the year. The 2013 and 2014 CDO Summits received stellar endorsements from dozens of speakers and attendees alike:
< More News