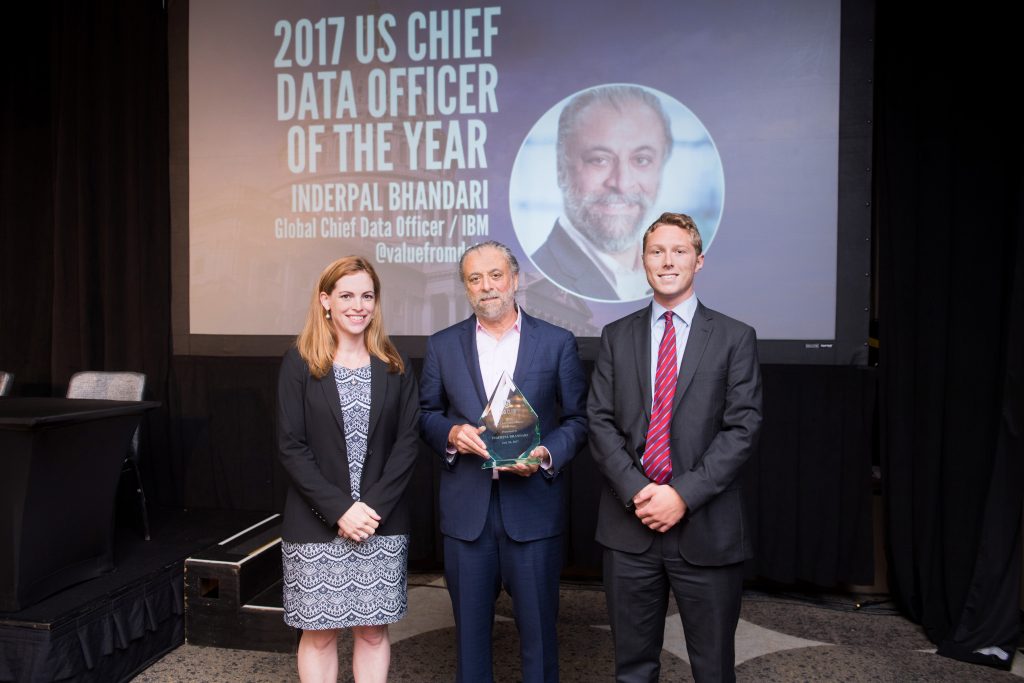 Dr. Inderpal Bhandari, Global Chief Data Officer at IBM (NYSE: IBM), was today recognized as the U.S. Chief Data Officer of the Year 2017 by the CDO Club, the world's largest community of C-suite digital and data leaders, with over 5,000 registered members.
Dr. Bhandari was presented with the award today after his closing keynote on "Enabling a Cognitive Business" at the DC CDO Summit hosted at the W hotel in Washington, D.C.
Inderpal is a widely recognized expert in transforming data into business value and improved customer experiences by delivering strategic, innovative capabilities that enable growth and productivity.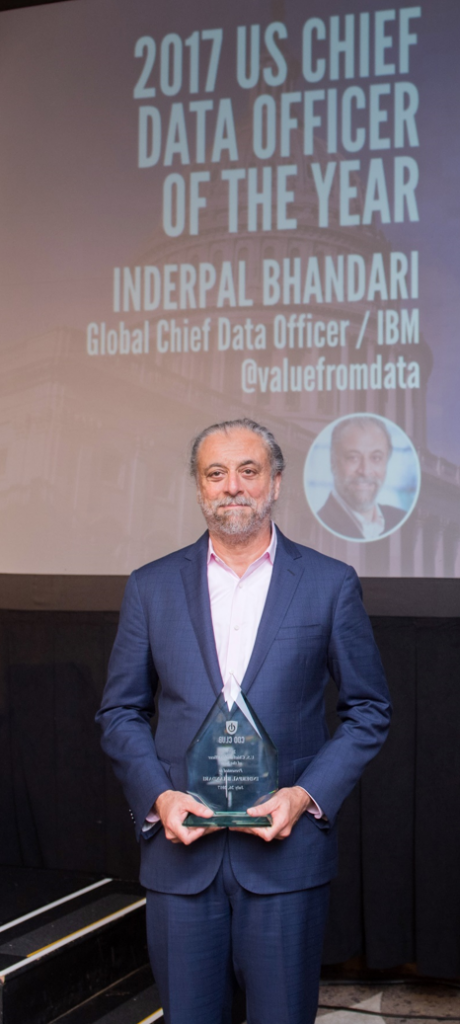 In December 2015, Dr. Bhandari re-joined IBM as Global Chief Data Officer. Bhandari is responsible for IBM's data strategy to enable IBM or similar enterprises to derive and act rapidly on cognitive insights from massive stores of unstructured and structured data. He is also committed to sharing a blueprint later this year for implementing the foundational use cases that a CDO can use to apply Artificial Intelligence (AI) into every business process of their enterprise.
"In early 2017, for the first time ever, we empowered CDO Club members to vote for nominees of this year's U.S. Chief Data Officer of the Year award. Our global CDO community overwhelmingly voted for Dr. Bhandari, which speaks volumes about his international influence and stature in data, analytics, data science, Artificial Intelligence, Machine Learning, and cognitive computing," remarked David Mathison, CEO and founder of the CDO Club.
"Inderpal understands the critical importance of aligning data strategy with overall corporate strategy, and his consistent operational application of this insight has delivered tremendous value to shareholders, investors, and management alike. Therefore, I am delighted to name Dr. Bhandari as the U.S. Chief Data Officer of the Year for 2017," said Mathison.
"There is no greater honor, nor greater vote of confidence in the path one is on, than to be recognized by one's peers," Bhandari said. "The cognitive mission we are pursuing within IBM is the one we're executing for our clients around the world: to exploit analytics, AI, data science, deep learning, and more, to make informed, strategic business decisions that are based on insights extracted from their own data."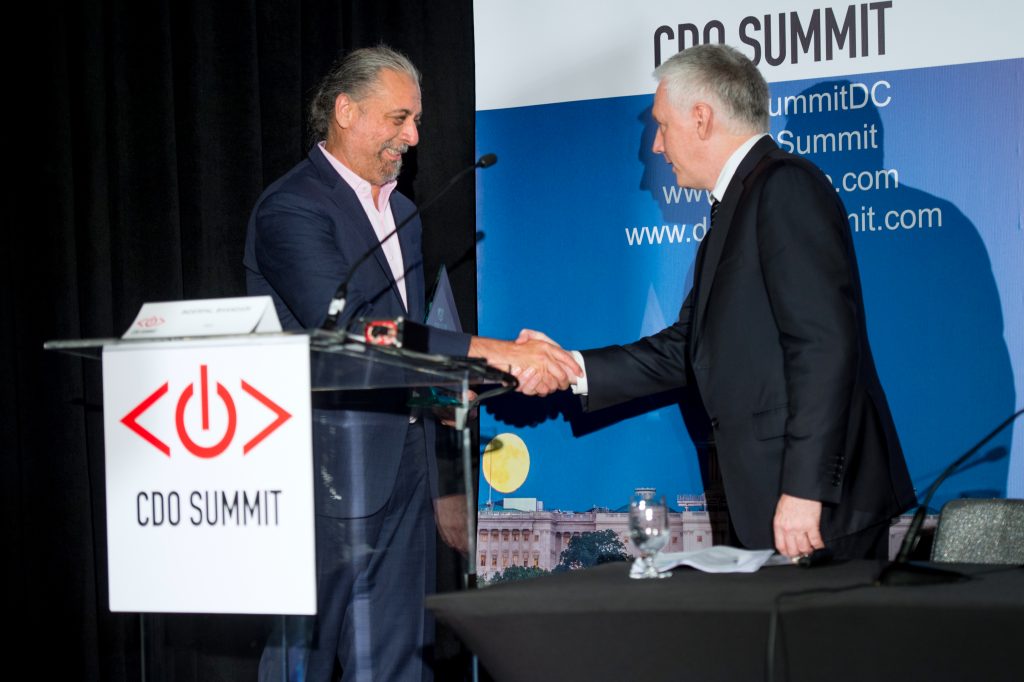 Inderpal has more than 20 years of leadership experience. Previous leadership positions include Senior Vice President and Chief Data Officer at Cambia Health Solutions, Vice President of Knowledge Solutions and Chief Data Officer at Express Scripts/Medco Health Solutions, founder, Chairman, CEO of Virtual Gold, and research staff member at IBM's Watson Research Center.
Dr. Bhandari earned his Master of Science degree in Electrical and Computer Engineering from the University of Massachusetts in 1985, and his PhD in Electrical and Computer Engineering from Carnegie Mellon University in 1990.
In 2016, the CDO Club gave the first-ever U.S. Chief Data Officer of the Year award to Dr. D.J. Patil, former Chief Data Scientist at the White House Office of Science and Technology Policy, and the first-ever Australian Chief Data Officer of the Year award to Simon Bligh, CEO of Dun & Bradstreet ANZ, in 2017.
In addition to the Chief Data Officer of the Year award, the CDO Club has also given the Chief Digital Officer of the Year award to a dozen leading executives in the U.S., U.K., the EU, and Australia since 2013.
See all the past Chief Data Officer and Chief Digital Officer of the Year recipients here.
---
If you are tasked with understanding what digital and data leaders must do in order to succeed in almost any industry, the best place to learn more is at the CDO Summit.
Our CDO Summits cover DIGITAL TRANSFORMATION, DATA, and ANALYTICS.
We stack the agendas with the BEST digital and data leaders in the public and private sector.
The CDO Summit is the "must-attend" digital event of the year. The 2013, 2014 and 2015 CDO Summits received stellar endorsements from dozens of speakers and attendees alike: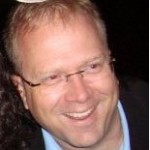 "Sometimes a conference comes along that hits the trifecta – hot topic, high-caliber attendees, and stellar location. The first Chief Digital Officer Summit reached that mark with ease, and I look forward to attending the next one."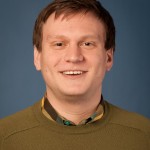 "Congratulations and thanks to David Mathison for spotting the need for community and collaboration in the growing Chief Digital Officer space, and for having the wherewithal, network, and organizational talent to put together such a top-notch event in its inaugural year. Next year's summit should be even more of a must-do for anyone working digital at senior levels in all kinds of businesses."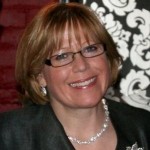 "David, here's a handy C^3 test for conference value: Did I learn at least three new perspectives? Check. Did I meet at least three interesting people? Check. Did I take back at least three relevant pieces of news I can use? Check. Flying colors for the Chief Digital Officer Summit 2013! Thank you so much, and yes, I'd be very pleased to participate next year!"

"Congratulations to David Mathison and his team on the simply amazing job they did on the inaugural Chief Digital Officer Summit. Probably the most informative, insightful, on target, entertaining, collaborative, thought provoking, and inspiring conferences I have ever attended. I learned more about my business and what I do in the past 12 hours than I have from any research white paper, articles or blogs over the past 12 months. The range of topics and speakers assembled were incredibly diverse, informative, collaborative, and most of all, inspiring. It has invigorated me to be the best possible professional CDO I can be. David Mathison's skills as a moderator were impeccable, bringing out the best of the speakers and keeping the conversation flowing. His intimate and insightful knowledge of this space is only out-shined by his humility and graciousness. Kudos to David and his organizing team."
< More News