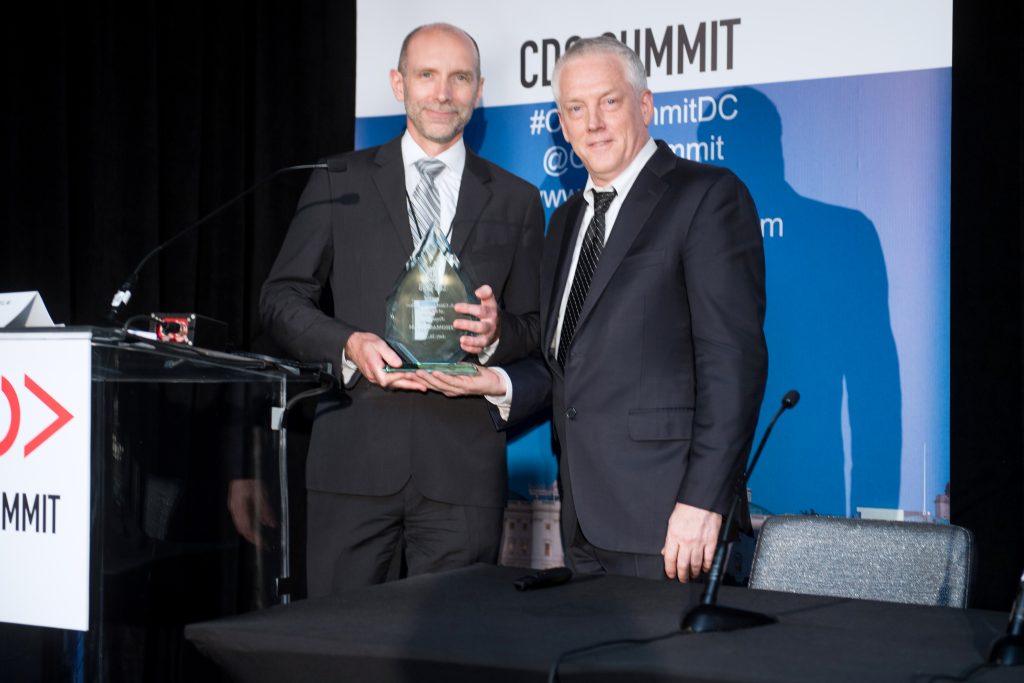 Thomas Hjelm, Chief Digital Officer at NPR, was today recognized as the U.S. Chief Digital Officer of the Year 2017 by the CDO Club, the world's largest community of C-suite digital and data leaders with over 5,000 registered members.
Mr. Hjelm was presented with the award today after his keynote on "The United States of Public Radio" at the DC CDO Summit hosted at the W hotel in Washington, D.C., by CDO Club founder David Mathison.
Thomas Hjelm has more than 20 years' experience in developing new products, programs, and brands, and engaging audiences across digital platforms, radio, television, and film.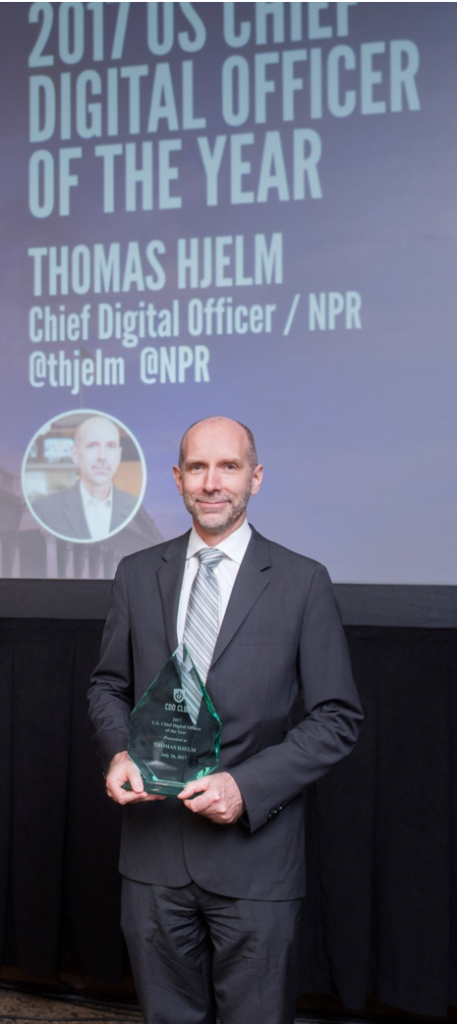 "Today we recognize Thomas as a visionary executive and inspirational leader who has successfully transformed major media businesses from AOL to NBC, from New York Public Radio to NPR," noted David Mathison, CEO of the CDO Club.
"Thomas has consistently proven himself to be a mentor to his staff, collegial and helpful with his peers, and a well-respected colleague inside and outside his organization. I am delighted to name Thomas Hjelm as the U.S. Chief Digital Officer of the Year for 2017," said Mathison.
"I am honored to receive this recognition. I have the great fortune of working with incredibly talented teams at NPR and across the public radio system," said Hjelm. "The digital transformation of public radio is well under way, and by exploring new innovative tools and platforms, we have a tremendous opportunity to renew our mission and extend our compact with audiences across the country."
In April 2016, Mr. Hjelm became Chief Digital Officer of NPR. Based in Washington D.C., he oversees NPR's strategies for reaching and engaging new audiences across a range of innovative products and platforms, and works across the public radio system to lead collective strategies for digital transformation and growth.
From February 2011 to 2016, Mr. Hjelm was Chief Digital Officer at New York Public Radio (NYPR), where he led their digital, business, and audience development efforts, which included overseeing the marketing, distribution, data and audience, product and business development teams.
His work at NYPR directly and positively impacted NPR member stations WNYC FM and AM; classical music station WQXR; the Jerome L. Greene Performance Space; and other broadcast and digital properties including Radiolab, Freakonomics Radio, The New Yorker Radio Hour, On the Media, Studio 360, The Takeaway, Brian Lehrer, Leonard Lopate, Here's the Thing with Alec Baldwin, Note to Self, Death, Sex and Money, and Snap Judgment.
From 2003 to 2006 at AOL, Tom produced multiple campaigns to promote the AOL for Broadband experience in stores, direct mail, and online; and supervised the creative execution of the online, print, out-of-home, guerilla, viral, and radio campaigns for the 2005 re-launches of AOL.com and AIM.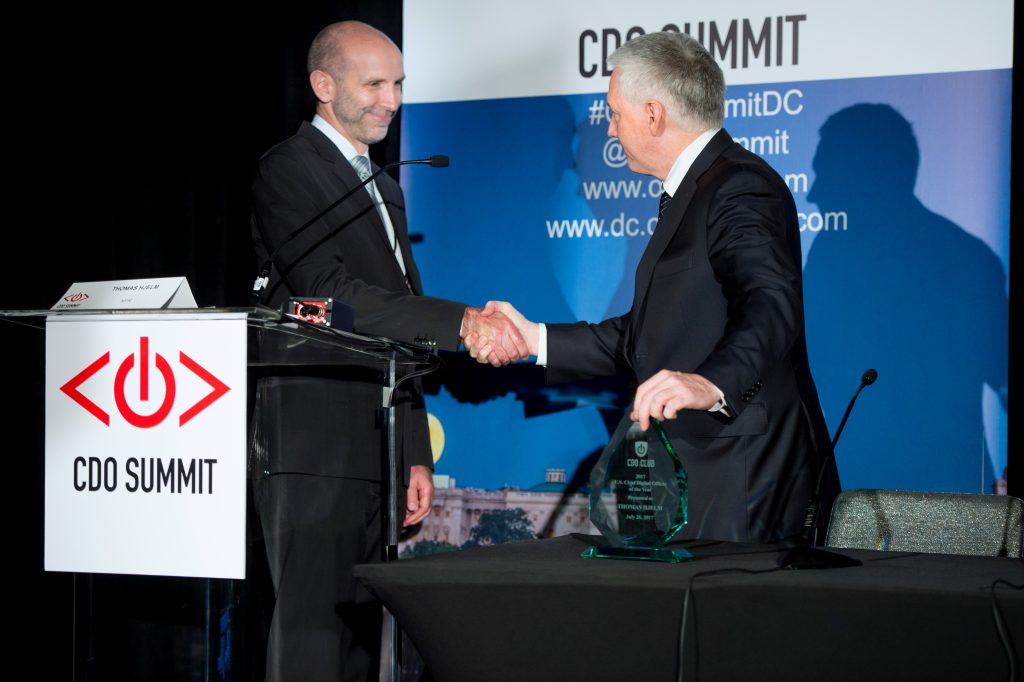 He began his career in 1995 as Producer for NBC Interactive where he supervised content development and production for websites for NBC shows including Homicide: Life on the Street, The Tonight Show, Late Night, and Saturday Night Live.
In May 1998, he became Executive Producer at NBC.com, where he managed strategy, operations, and content and product development for an online network of original entertainment content. Later he joined NBC Local Media in New York, where he oversaw the digital content strategy and operations for a network of 10 owned-and-operated major-market stations.
Hjelm received a B.A. in English from Swarthmore College and an M.F.A. in Film Production from the University of Southern California.
Previous U.S. Chief Digital Officer of the Year award winners include Linda Boff, Chief Marketing Officer at GE (2016); Adam Brotman, Chief Digital Officer at Starbucks Coffee Company (2015); Rachael S. Haot, former Chief Digital Officer of New York City and New York State (2014); and Teddy Goff, former Digital Director at Obama for America (2013).
See all the past Chief Data Officer and Chief Digital Officer of the Year recipients here.
---
If you are tasked with understanding what digital and data leaders must do in order to succeed in almost any industry, the best place to learn more is at the CDO Summit.
Our CDO Summits cover DIGITAL TRANSFORMATION, DATA, and ANALYTICS.
We stack the agendas with the BEST digital and data leaders in the public and private sector.
The CDO Summit is the "must-attend" digital event of the year. The 2013, 2014 and 2015 CDO Summits received stellar endorsements from dozens of speakers and attendees alike: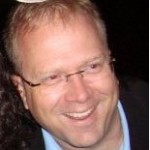 "Sometimes a conference comes along that hits the trifecta – hot topic, high-caliber attendees, and stellar location. The first Chief Digital Officer Summit reached that mark with ease, and I look forward to attending the next one."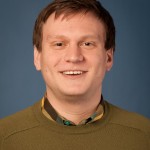 "Congratulations and thanks to David Mathison for spotting the need for community and collaboration in the growing Chief Digital Officer space, and for having the wherewithal, network, and organizational talent to put together such a top-notch event in its inaugural year. Next year's summit should be even more of a must-do for anyone working digital at senior levels in all kinds of businesses."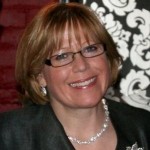 "David, here's a handy C^3 test for conference value: Did I learn at least three new perspectives? Check. Did I meet at least three interesting people? Check. Did I take back at least three relevant pieces of news I can use? Check. Flying colors for the Chief Digital Officer Summit 2013! Thank you so much, and yes, I'd be very pleased to participate next year!"

"Congratulations to David Mathison and his team on the simply amazing job they did on the inaugural Chief Digital Officer Summit. Probably the most informative, insightful, on target, entertaining, collaborative, thought provoking, and inspiring conferences I have ever attended. I learned more about my business and what I do in the past 12 hours than I have from any research white paper, articles or blogs over the past 12 months. The range of topics and speakers assembled were incredibly diverse, informative, collaborative, and most of all, inspiring. It has invigorated me to be the best possible professional CDO I can be. David Mathison's skills as a moderator were impeccable, bringing out the best of the speakers and keeping the conversation flowing. His intimate and insightful knowledge of this space is only out-shined by his humility and graciousness. Kudos to David and his organizing team."
< More News