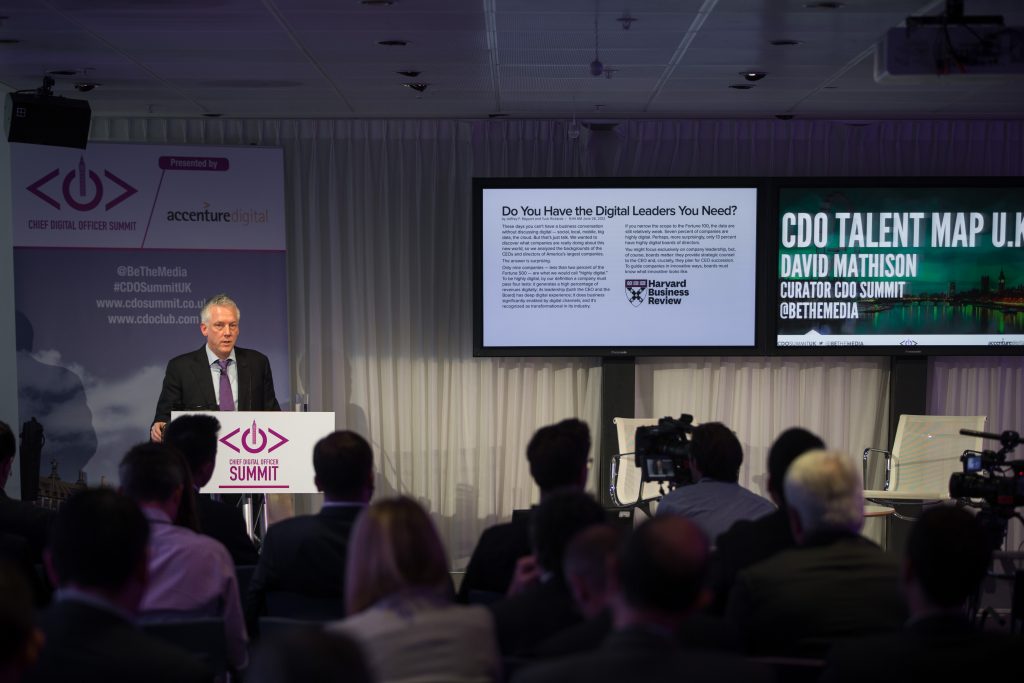 "If you're lacking a digital transformation strategy, it's not just your company that's at risk. Entire industries are at risk," David Mathison, CEO and Founder of the CDO Club, said at the 2nd annual U.K CDO Summit, presented by Accenture Strategy, on October 7th, 2015 in London, England.
In 2013, the CDO Club released the CDO Talent Map: the first-ever research report of its kind to cover the global Chief Digital Officer trend.
It was an exhaustive study based on years of research and first-hand interviews, which revealed critical statistic, geographic, and demographic information on Chief Digital Officers.
Immediately after its release, the CDO Talent Map and was quoted by leading industry analysts including McKinsey, MIT Sloan Management Review, and CMS Wire.
The CDO Talent Map continues to be quoted as source material by global journalists, bloggers, and analysts looking to understand and cover this important space.
In the 3 years since its initial publication, the CDO space has evolved rapidly. For example, in 2014 we began including Chief Data Officers in our coverage.
Things have been moving so fast that, instead of producing an annual report each year, Mathison has been updating the community by way of his opening keynote presentations at the annual CDO Summits in New York in April. 2016 will be our 4th NYC event.
For the first time ever, Mathison will present a "sneak peek" of the newly updated 2016 CDO Talent Map at the Sydney CDO Summit on March 1, 2016, hosted at the UTS Business School and presented by Accenture Digital.
Just as Sydney is one day ahead of the U.S. (it's Sunday there as you read this), the Sydney CDO Summit will also be ahead of the curve when it comes to the release of this important information.
An updated print version has not been released since 2013 – until now.
The newly updated 2016 CDO Talent Map will also be available for download on CDOClub.com, so stay tuned!
As a special advanced preview, below are some of the "old" numbers that will be updated at the Sydney Summit:
The number of CDOs Continues to Double Every Year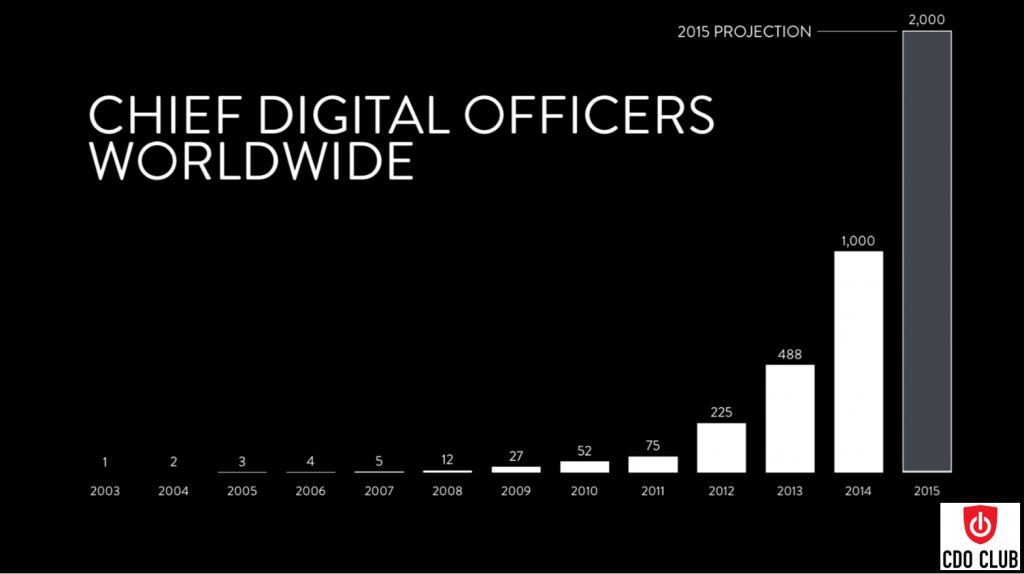 As predicted by Mathison's forecast last year, the number of Chief Digital Officers continues to double every year, to over 2,000 in 2015.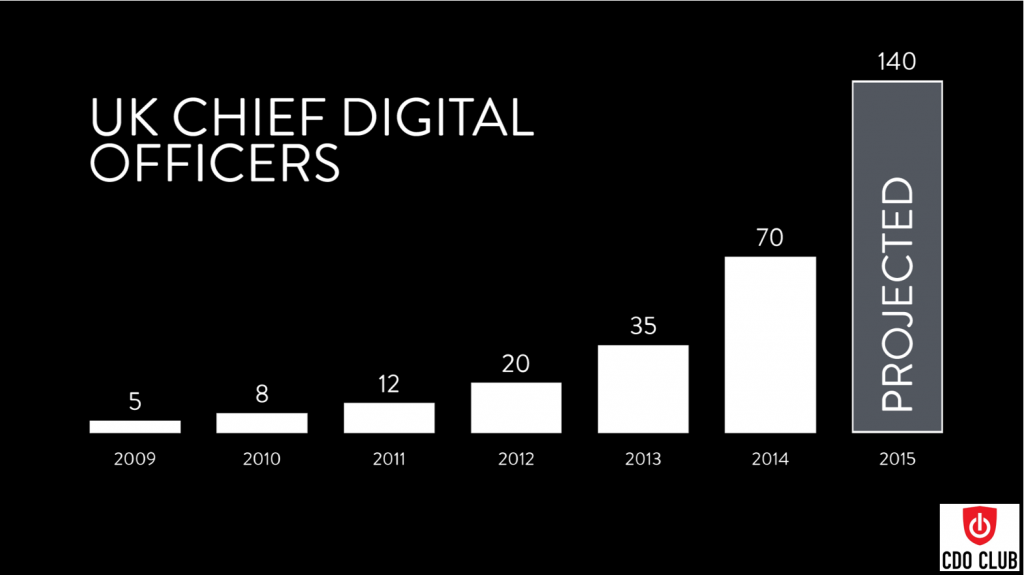 The CDO hiring trend in the U.K. is on track with the global rise, doubling to around 140 in 2015.
Chief Data Officer Hires Mark Another Explosive Trend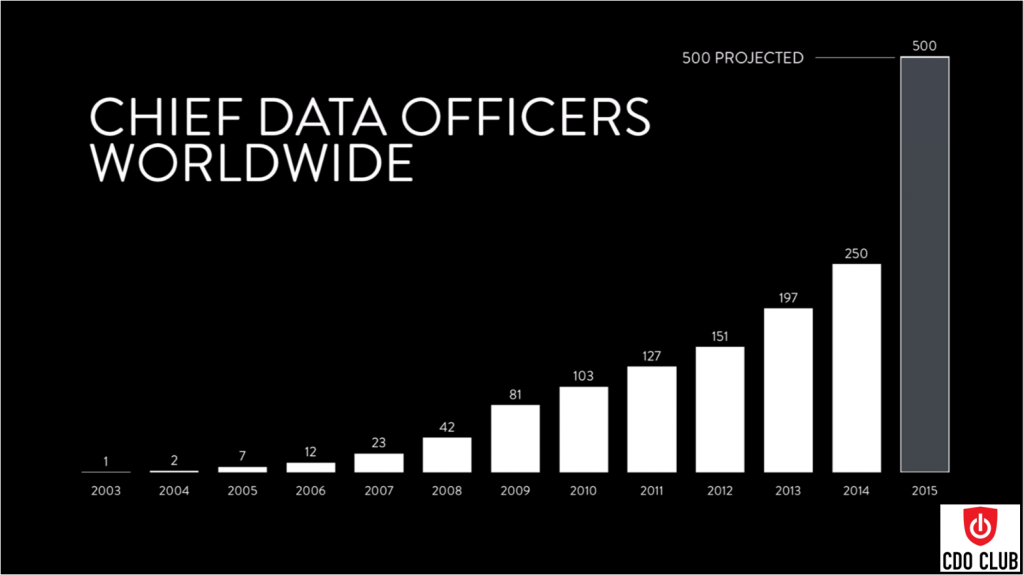 As the CDO Club has previously reported, the next wave of hires involves data professionals. We projected that there would be approximately 500 Chief Data Officers, Chief Data Scientists, and Chief Analytics Officers globally by the end of 2015.
CDO Hires Are Increasing Across Industries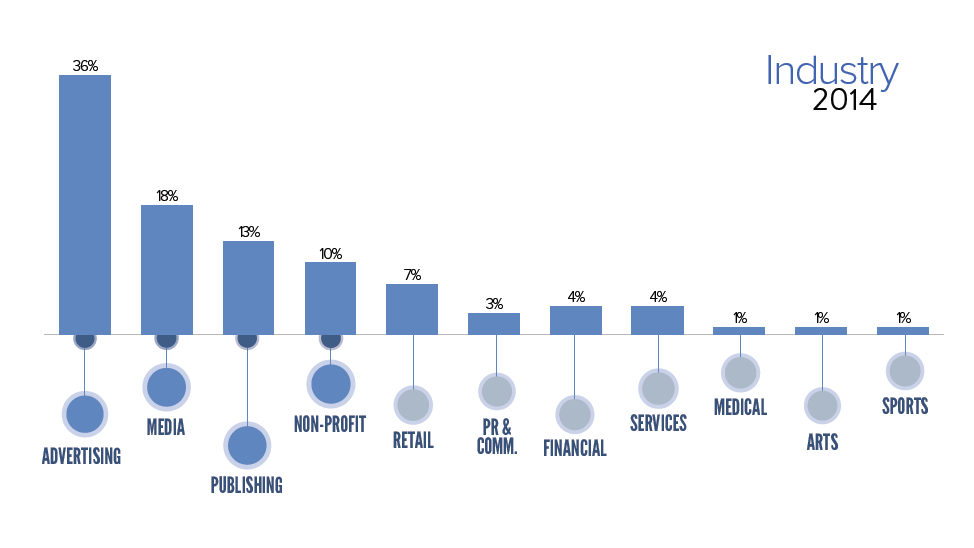 While advertising, media, and publishing originally employed the most Chief Digital Officers globally, every year this percentage is decreasing as a diverse set of organizations across sectors are starting to hire more CDOs.
This chart (above) will show the most dramatic changes in 2016, as almost every single industry has recently hired Chief Digital and Chief Data Officers over the last few years.
For example, in the last year alone, IBM, SAP, Cisco, the White House, the US Department of Education, and the Departments of Treasury, Commerce, and Energy all hired CDOs.
CDOs Are Going International

The image above is yet another graphic that will dramatically change in the updated 2016 CDO Talent Map.
The CDO trend began in earnest in the U.S. from 2005-2013, expanded to Europe in 2013 and 2014, and CDO hires are now aggressively happening across new markets like Australia, the Middle East, Africa, and Asia.
---
Industry analysts, executives, and leaders have relied on the CDO Talent Map for the latest and most relevant research on CDOs.
Now, for the first time ever, the information from this important report will be released before our New York event in April.
On 1 March 2016, Sydney CDO Summit participants will have the opportunity to hear the latest, most relevant numbers, before the rest of the world.
Click here to register and be the first to access this important information.
Don't miss your chance to be there – secure your seat today!
See Select Speakers:
Christian Bowman
Head of Marketing & Digital
SmartClinics

Renee Gamble
Country Manager ANZ,
Google for Work
Google

Danny Bass
CEO
IPG Mediabrands Australia

Cat Matson
Chief Digital Officer,
City of Brisbane
Brisbane Marketing

Paul Shetler
CEO
Australia's Digital
Transformation Office

Michelle Fitzgerald
Chief Digital Officer
City of Melbourne

Jon Cumming
Chief Digital Officer
ACT Government

Bronwyn van der Merwe
Group Director and
Managing Director
Fjord Australia

Gerd Schenkel
Executive Director
Telstra Digital
Telstra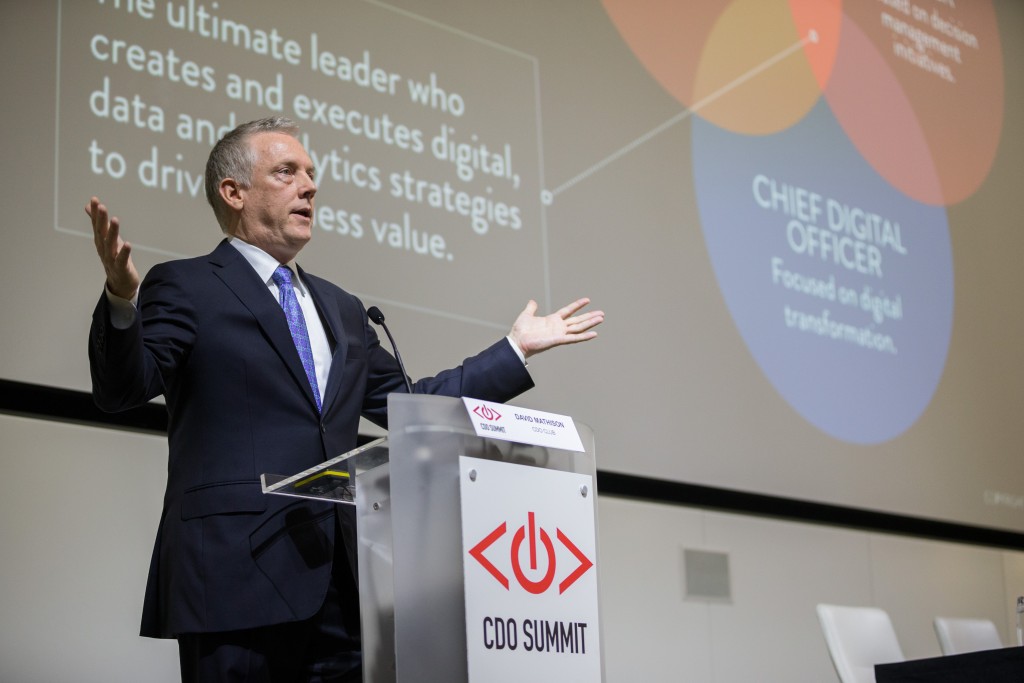 If you are tasked with understanding what digital leaders must do in order to succeed in almost any industry, the best place to learn more is at the CDO Summit.
We have extended our Early Bird discount until January 31, 2016 so register today for the Sydney CDO Summit on 01 March, 2016, hosted at the UTS Business school and presented by Accenture Digital.
Also sign up now to lock in our Super Early Bird Discount for NYC in April 2016, and Toronto in July 2016.

The CDO Summit is the "must-attend" digital event of the year. The 2013, 2014 and 2015 CDO Summits received stellar endorsements from dozens of speakers and attendees alike: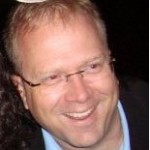 "Sometimes a conference comes along that hits the trifecta – hot topic, high-caliber attendees, and stellar location. The first Chief Digital Officer Summit reached that mark with ease, and I look forward to attending the next one."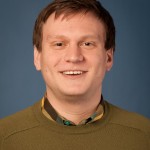 "Congratulations and thanks to David Mathison for spotting the need for community and collaboration in the growing Chief Digital Officer space, and for having the wherewithal, network, and organizational talent to put together such a top-notch event in its inaugural year. Next year's summit should be even more of a must-do for anyone working digital at senior levels in all kinds of businesses."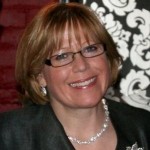 "David, here's a handy C^3 test for conference value: Did I learn at least three new perspectives? Check. Did I meet at least three interesting people? Check. Did I take back at least three relevant pieces of news I can use? Check. Flying colors for the Chief Digital Officer Summit 2013! Thank you so much, and yes, I'd be very pleased to participate next year!"

"Congratulations to David Mathison and his team on the simply amazing job they did on the inaugural Chief Digital Officer Summit. Probably the most informative, insightful, on target, entertaining, collaborative, thought provoking, and inspiring conferences I have ever attended. I learned more about my business and what I do in the past 12 hours than I have from any research white paper, articles or blogs over the past 12 months. The range of topics and speakers assembled were incredibly diverse, informative, collaborative, and most of all, inspiring. It has invigorated me to be the best possible professional CDO I can be. David Mathison's skills as a moderator were impeccable, bringing out the best of the speakers and keeping the conversation flowing. His intimate and insightful knowledge of this space is only out-shined by his humility and graciousness. Kudos to David and his organizing team."
< More News