Looking for fulfilling work? Know someone who is?
The Chief Digital Officer Summit and CDO Club is hiring:
VP & General Manager, Online: We're looking for a General Manager with 10-15 years experience in operating and running online platforms as a profit center. You will be responsible for the CDOClub.com blog, and all CDOSummit.com sites (such as New York, London, Amsterdam, Sydney, and Toronto, for example), and mobile.
VP & General Manager, Community: We're looking for a professional manager with 10-15 years experience in building online & offline communities and running membership sites. The right candidate will be responsible for our CDOClub.com community of over 1,000+ members.
VP & Managing Director, Executive Search: We're looking for an Executive Search professional with 10-15 years experience in sourcing and placing C-level digital and data executives. Must have a strong record of success in placements at major organizations.
If you are interested in applying for any of these positions please send a link to your LinkedIn profile, cover letter, and a recent copy of your resume to 'Michelle at CDOClub dot com.' In the subject line please include your first and last name and the position you are applying for.
---
Are YOU in our new promo video from the 2014 UK CDO Summit?
Below find our highlight video from our inaugural UK CDO Summit in October 2014 at the BBC, featuring the following speakers: Chris Whiteley, Mike Bracken, Charlie Redmayne, Ralph Rivera, Amanda Hill, Gordon Ching, Rohan Silva, Saul Klein, Narry Singh and many more.

Be sure to lock in your Super Early Bird Discount for London by registering NOW:
Click here to Register for the UK CDO Summit 2015
---

Time is running out for our Limited Time Discount Pricing on CDO Club Memberships.
After we add the videos from the recent CDO Summit in NYC, we'll revert to regular pricing.
Subscribe now to lock in the discount now – You can thank us later!
Click here to visit our Membership page for more information.
The CDO Club is the world's first, largest, and most powerful community of C-suite digital leaders.
CDO Club members include more than 1,000 of the leading digital and data strategists and practitioners at the world's most influential organizations, with the following titles represented:
✰ Chief Digital Officers ✰ Chief Data Officers ✰ Chief Analytics Officers ✰  Chief Marketing Officers ✰ Chief Marketing Technologists ✰ Chief Information Officers ✰ Chief Technology Officers ✰ Chief Human Resource Officers ✰ Chief Executive Officers ✰ Board Directors ✰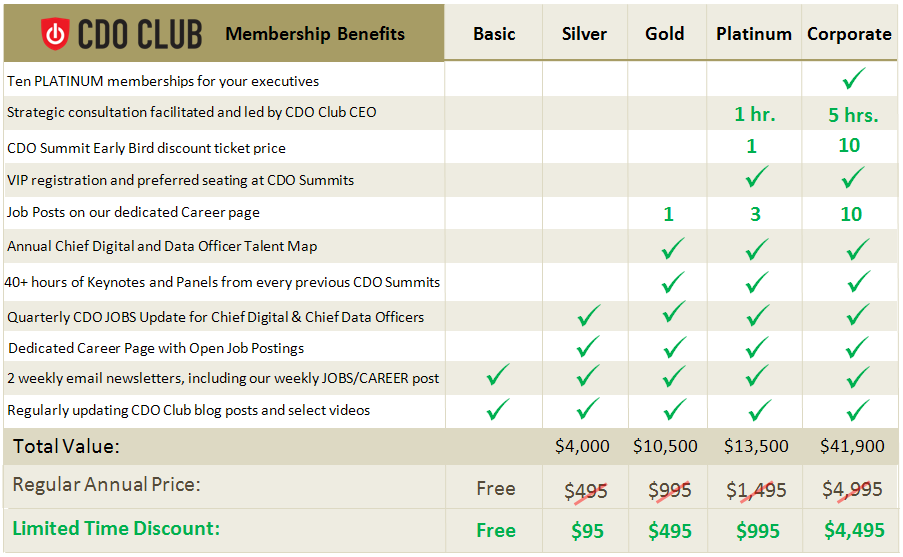 ---
NOTE: The CDO Club is now a membership site. You'll need to register in order to continue enjoying our posts. To register or for more information, click here.
If you are tasked with understanding what digital leaders must do in order to succeed in almost any industry, the best place to learn more is at the Chief Digital Officer Summit.
Take advantage of our Super Early Bird Discount for Amsterdam, London in October 2015, Sydney in February 2016, NYC in April 2016, and Toronto in July 2016. Reserve your place now: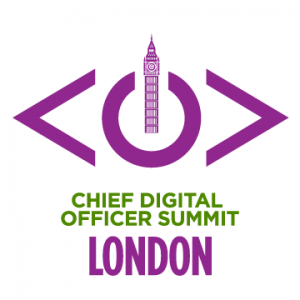 The CDO Summit is the "must-attend" digital event of the year. The 2013 and 2014 CDO Summits received stellar endorsements from dozens of speakers and attendees alike:

"The Chief Digital Officer Summit was engaging as much as it was informative. Bringing these incredible leaders together in one place and for one day speaks to David Mathison's extensive network, his ability to understand the needs of his clients, and to be ahead of the curve in this important space. It was a great use of my time, and I learned more than I ever thought I would. Great networking as well!"

"The Chief Digital Officer Summit was a very relevant topic for today's times. I was impressed by the caliber and diversity of the panel speakers, all of whom had something unique and valuable to offer. A great opportunity to learn from the best."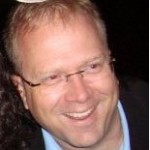 "Sometimes a conference comes along that hits the trifecta – hot topic, high-caliber attendees, and stellar location. The first Chief Digital Officer Summit reached that mark with ease, and I look forward to attending the next one."

"The Chief Digital Officer Summit was outstanding. Why? Candid panels with top players in the digital community. Splendid break-time conversations. And, savvy facilitation, Mathison Style."
< More News