The CDO Club held its 3rd annual CDO Summit, sponsored by Capgemini, on Wednesday, April 29, 2015, hosted at Thomson Reuters in New York City.
The CDO Summit addresses the challenges and opportunities arising from Big Data, the cloud, digital disruption, and social and mobile media, with an emphasis on the ascendant role of the Chief Digital and Chief Data Officer.
According to new data from the CDO Club, the number of Chief Digital Officers (CDOs) doubled from 2013 to nearly 1,000 in 2014, continuing a trend of doubling each year.
The CDO Club forecasts that the number of global CDOs will double again in 2015, to some 2,000 CDOs by the end of the year.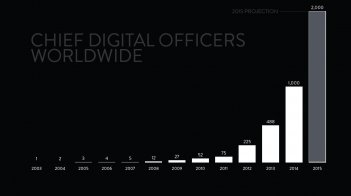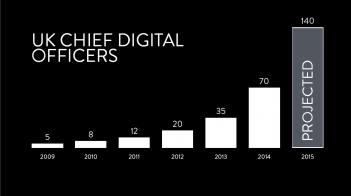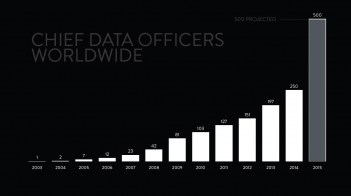 The legions of Chief Data Officers also continue to grow, with over 50 new hires in 2014 for a total of 250. The CDO Club projects that this number will also double in 2015.
The data was presented during CDO Club founder David Mathison's keynote presentation, "Hall of Fame: CDOs Who Have Become CEO and Board Directors."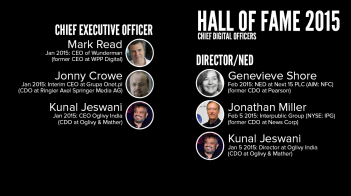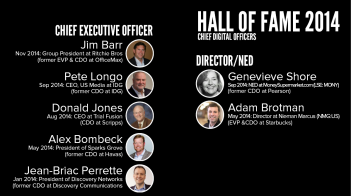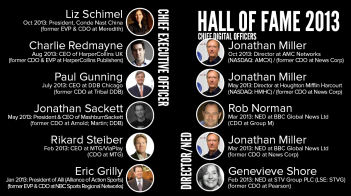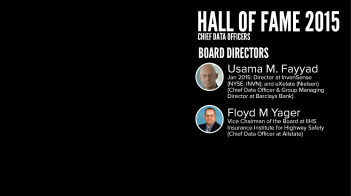 Mathison revealed that in Q1 2015 alone, three CDOs took on the CEO title, while four CDOs joined boards. Incredibly, that's already as many as all of 2014, when five CDOs became CEO and two became Board Directors/NED.
CDO to CEO/President
2015 to Date
2014
Mark Read
CEO of Wunderman
(former CEO at WPP Digital)
Jim Barr
Group President at Ritchie Bros Auctioneers
(former EVP & CDO at OfficeMax)
Jonny Crowe
Interim CEO at Grupa Onet.pl
(CDO at Ringier Axel Springer Media AG)
Pete Longo
CEO, US Media at IDG
(former CDO at IDG)
Kunal Jeswani
CEO Oglivy India
(CDO at Oglivy & Mather)
Donald Jones
CEO at Trial Fusion
(CDO at Scripps)
Alex Bombeck
President of Sparks Grove
(former CDO at Havas)
Jean-Briac Perrette
President of Discovery Networks Intl
(former CDO at Discovery Communications)
CDO to Director/NED
2015 to Date
2014
Genevieve Shore
NED at Next 15 PLC (AIM: NFC)
(former CDO at Pearson)
Genevieve Shore
NED at MoneySupermarket.com (LSE: MONY)
(former CDO at Pearson)
Jonathan Miller
Interpublic Group (NYSE: IPG)
(former CDO at News Corp)
Adam Brotman
Director at Nieman Marcus (NMG:US)
(EVP &CDO at Starbucks)
Kunal Jeswani
Director at Oglivy India
(CDO at Oglivy & Mather)
Usama M. Fayyad
Director at InvenSense (NYSE: INVN);
and eXelate (Nielsen)
(Chief DATA Officer & Group Managing
Director at Barclays Bank)
[bctt tweet="Unbelievable: As many CDOs were elevated to CEO and Board Directors in Q1 2015 as in all of 2014 http://ow.ly/MEcyK" via="no" url="no"]
The CDO Club is the sole organization tracking the CDO to CEO and Director/NED career trajectory. (See here and here.)
Arguably, the biggest news of the day was the naming of Adam Brotman, Starbucks Coffee Company's Chief Digital Officer, as the 2015 U.S. Chief Digital Officer of the Year during Mathison's keynote.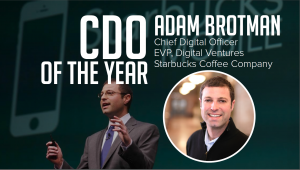 Read the entire announcement of CDO of the Year >
Brotman joined Starbucks in April 2009, and under his leadership the company has become a leader in mobile payments, with more than 18% of its U.S. store transactions occurring via mobile. Additionally, the company processes more than 8 million mobile payments each week.
Adam Brotman's US CDO of the Year 2015 Acceptance Speech
"I really want to thank you for this recognition, but I can only accept this on behalf of the entire cross-functional team at Starbucks who work every day to bring our digital platforms and experiences to life. Everything we do is a team effort here, and so this recognition belongs to the team more than me.

I wish I could be there in person, of course. And would have been – but I am in Dallas at the quarterly Neiman Marcus board of directors meeting today, and couldn't get there in time.

I am intrigued and impressed by the work and energy around the CDO Club.  Have been for years.  As your members know better than anyone else, the concept of a top "digital" leader in an organization is a relatively new concept for almost every single company that is not a traditional "tech company'.  This new – and somewhat amorphous – function sits at the intersection of technology, marketing, design, strategy and operations.  Now every company is realizing that they have to become a 'tech company' in some ways, and wrestling with what it means from a strategic, brand and organizational perspective.  So having a forum of C-suite digital leaders to compare notes and learn from one another is critical and super helpful.  Thank you for everything you are doing."
"Adam is an inspiration, and we're proud to select him as U.S. CDO of the Year 2015," said Mathison.
Dr. Didier Bonnet, Senior Vice President and Global Practice Leader at Capgemini Consulting, also caused a stir with insights he presented from his new book, Leading Digital: Turning Technology Into Business Transformation.
His keynote was featured in a Wall Street Journal write-up on the event, headlined Digital Transformation Moves to Back Office Operations.
Capgemini was the Presenting Sponsor of this New York CDO Summit.
The featured speaker of the event was Jeremiah Owyang, founder of Crowd Companies. Owyang has spent the last few years researching and even living in the collaborative economy.
The collaborative economy is an economic model in which commonly available technologies enable people to get what they need from each other.
That's why a powerful organization like Hilton Hotels, which took 93 years to build an inventory of 600,000 rooms, can be outmaneuvered by online room-share service Airbnb, which got there in just 4 years with more than 900,000 rooms around the globe and growing.
With the shared economy expanding to ever-more sectors, and with the mounting billions of dollars in investment money available in just a few recent years, CDO Summit participants were eager to hear leading strategies to tackle this trend.
[bctt tweet="Audience loved @jowyang @CrowdCompanies at #CDOSummitNYC – the shared economy is the topic of the hour: http://ow.ly/MEcyK" via="no" url="no"]
On a lighter note, the participants were also treated to the musical number "New York, New York," performed by cast members from the Broadway hit musical On the Town. Only the day before, the show was nominated for four Tony Awards, including Best Musical Revival and Best Direction.
In the evening, participants were joined by Grammy-nominated guitarist and singer Bill Kirchen, dubbed "A Titan of the Telecaster" by Guitar Player magazine.
Online engagement in the CDO Summit was spurred by a tech-savvy audience and an expansive social media operation, which reported on the event live on Twitter, Facebook, Instagram, and LinkedIn.
Engagement was then tracked, analyzed, and presented on a social monitoring platform provided by MutualMind and powered by IBM Watson. Participants competed for their place on a live leaderboard displaying the analysis of Watson's "adaptive listening" technology.
[bctt tweet="Missed #CDOSummitNYC? Here is a recap with some great insights from the event http://ow.ly/MEcyK" via="no" url="no"]
Gratitude is expressed to our own Andrzej Sienko and Milo Teplin, and to our social media ninjas Mo Krochmal and Kate Berg, among others.
In addition to Capgemini, the Chief Digital Officer Summit was sponsored by Elsevier, ForgeRock, Chadick Ellig, Universal Mind, and Be the Media. Many thanks to them.
To read or view insights from the summit, simply join the CDO Club. CDO Club members can watch and read about panels and keynotes not only from this event, but from every single CDO Summit since its inception.
The next CDO Summits will be held on September 9, 2015, in Amsterdam, and on October 12, 2015, in London. Mark your calendar.
Heavily discounted early-bird registration is available now.
– By Andrzej Sienko
---
NOTE: The CDO Club is now a membership site. You'll need to register in order to continue enjoying our posts. To register or for more information, click here.
If you are tasked with understanding what digital leaders must do in order to succeed in almost any industry, the best place to learn more is at the Chief Digital Officer Summit.
Take advantage of our Super Early Bird Discount for Amsterdam, London in October 2015, Sydney in February 2016, NYC in April 2016, and Toronto in July 2016. Reserve your place now: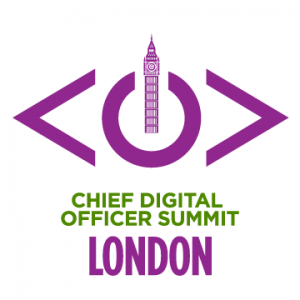 The CDO Summit is the "must-attend" digital event of the year. The 2013 and 2014 CDO Summits received stellar endorsements from dozens of speakers and attendees alike:

"The Chief Digital Officer Summit was engaging as much as it was informative. Bringing these incredible leaders together in one place and for one day speaks to David Mathison's extensive network, his ability to understand the needs of his clients, and to be ahead of the curve in this important space. It was a great use of my time, and I learned more than I ever thought I would. Great networking as well!"

"The Chief Digital Officer Summit was a very relevant topic for today's times. I was impressed by the caliber and diversity of the panel speakers, all of whom had something unique and valuable to offer. A great opportunity to learn from the best."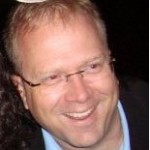 "Sometimes a conference comes along that hits the trifecta – hot topic, high-caliber attendees, and stellar location. The first Chief Digital Officer Summit reached that mark with ease, and I look forward to attending the next one."

"The Chief Digital Officer Summit was outstanding. Why? Candid panels with top players in the digital community. Splendid break-time conversations. And, savvy facilitation, Mathison Style."
< More News