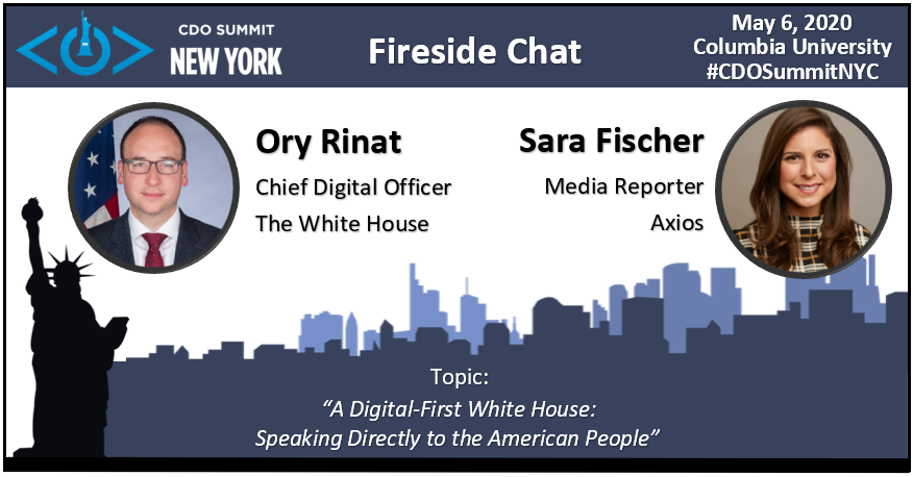 The White House Chief Digital Officer and Deputy Assistant to the President Ory Rinat will Keynote on "A Digital-First White House: Speaking Directly to the American People" at the 8th NYC CDO Summit on May 6, 2020 at Columbia University, presented by IDC.
Want to get an inside look on how the Trump White House is using the power of digital media – data, social, video, web, and more – to convey its message?
Ory Rinat, The White House Chief Digital Officer and Deputy Assistant to the President, will explore The White House strategies for leveraging digital, data, mobile, and social media at the 8th annual 2020 NYC CDO Summit on May 6th 2020 at Columbia University, presented by IDC. 
This is a rare opportunity for you to learn about The White House's digital and data strategies. The White House has built new approaches to digital that allow audiences to engage directly. It has leveraged user-generated content with tools like Crisisnextdoor.gov. With resources like findtreatment.gov, it has made digital solutions a key part of the policy process.
What does the next decade of digital government look like? How can the government pioneer digital solutions – and not just follow the private sector?
You will learn:
How The White House uses digital channels to reach Americans directly

How they manage a wide range of social media platforms and stay nimble

Why they rebuilt WhiteHouse.gov from the ground up, and saved money doing it 

Why the Trump modernization of government digital infrastructure is a policy victory
Register now to secure your spot
Before joining the administration, Rinat oversaw digital strategy for The Heritage Foundation and its news site, The Daily Signal.
Rinat was previously a director at Atlantic Media Strategies, the digital consultancy of The Atlantic. There, he developed overarching digital and communications strategies for clients including Fortune 100 corporations, non-profits, advocacy organizations, and think tanks.
Previously, Rinat was the National Journal's Director of Special Projects, and co-authored the Washington in the Information Age study on media habits.
Mr. Rinat has served as the research director on a United States Senate race, and led a national coalition on a presidential campaign. He is a graduate of Columbia University and Georgetown University Law School.
Mr. Rinat will be joined in a fireside chat by Sara Fischer, Media Reporter for Axios. She joined the company in 2016 as a founding staff member. Revue cited her weekly newsletter, Axios Media Trends, as the second-most popular media newsletter in the market and deemed it a "must-read" by media industry leaders. She was also recently named to Forbes "30 Under 30" Media list and to the 2019 Folio 100 in their "Creator" category. Ms. Fischer previously worked as Digital Producer for the Washington Post; Global Advocacy & Political Advertising at the New York Times; Breaking News reporter for CNN Politics; and Business Development Associate at Politico.
If you didn't attend our DC CDO Summit in Washington just after the 2016 election, you missed a lot (see the power-packed agenda): 
The fireside chat between

Gerrit Lansing

, Chief Digital Officer for the Republican National Committee (RNC), and

Jonathan Swan

, National Political Reporter for Axios, on "

The Startup That Won The White House.

" 

The panel with

Gary Coby

, former Director of Digital Advertising and Fundraising at the Donald J. Trump for President Campaign 2016, and one of Trump's top tech advisors. 
They revealed some of the digital, data, analytics, and social media strategies and tactics that the Trump campaign used to win the White House in 2016.

What has the White House done since the election, and what's on the horizon?
Get an inside look…
You won't want to miss this!
Secure your spot and to hear from:
Ory Rinat, Chief Digital Officer at
The White House and Deputy Assistant to the President
+ + + + + + + + + + + + + + 
Want to learn more about how Chief Digital Officers are shaping the public sector?
The CDO Summit and CDO Club has been at the forefront of covering the intersection of digital and government.
Click here to watch Obama for America's Digital Director Teddy Goff shares the secrets of his success at the 2014 NY CDO Summit.
Mr. Goff was named the 2013 Chief Digital Officer of the Year by the CDO Club for his work as Digital Director for Barack Obama's 2008 and 2012 presidential campaigns.
The CDO Summit is the place to be to learn about the latest developments in digital and the public sector. Secure your spot now.
Topics from these NYC CDO Summit speakers and more,
coming soon…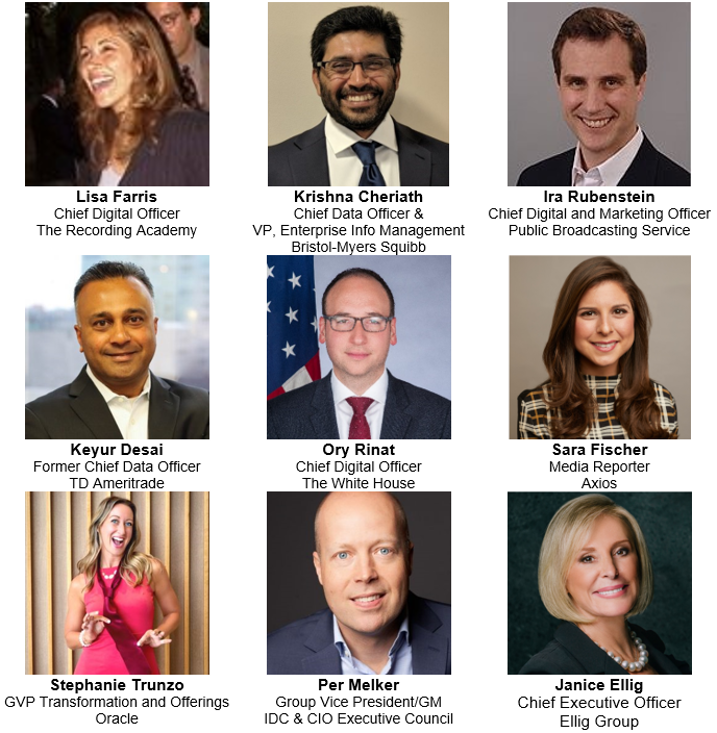 More Speakers Coming Soon!
Register for the 2020 NYC CDO Summit here >
Register Today for the 2020 NYC CDO Summit
In Partnership with IDC – our 8th Year – at Columbia University
We're excited about returning to NYC again, our 8th consecutive year:
Speakers: World class Chief Digital/Chief Data Officers, Chief Analytics Officers, CMOs, CIOs, CTOs, CEOs, CHROs.
Agenda: Equal time for DIGITAL, DATA, and ANALYTICS.
Awards: US Chief Digital/Chief Data Officer of the Year awards, and 1st-ever US Chief Analytics Officer of the Year award.
Partners: Alliances with IDC; Columbia University's School of Engineering & Applied Sciences (SEAS); & Columbia Video Network (CVN); and more.
Sponsors: IDC, Oracle, Pactera, Sansan, Ellig Group, more.
Venue: Roone Arledge Auditorium, Columbia University, NYC.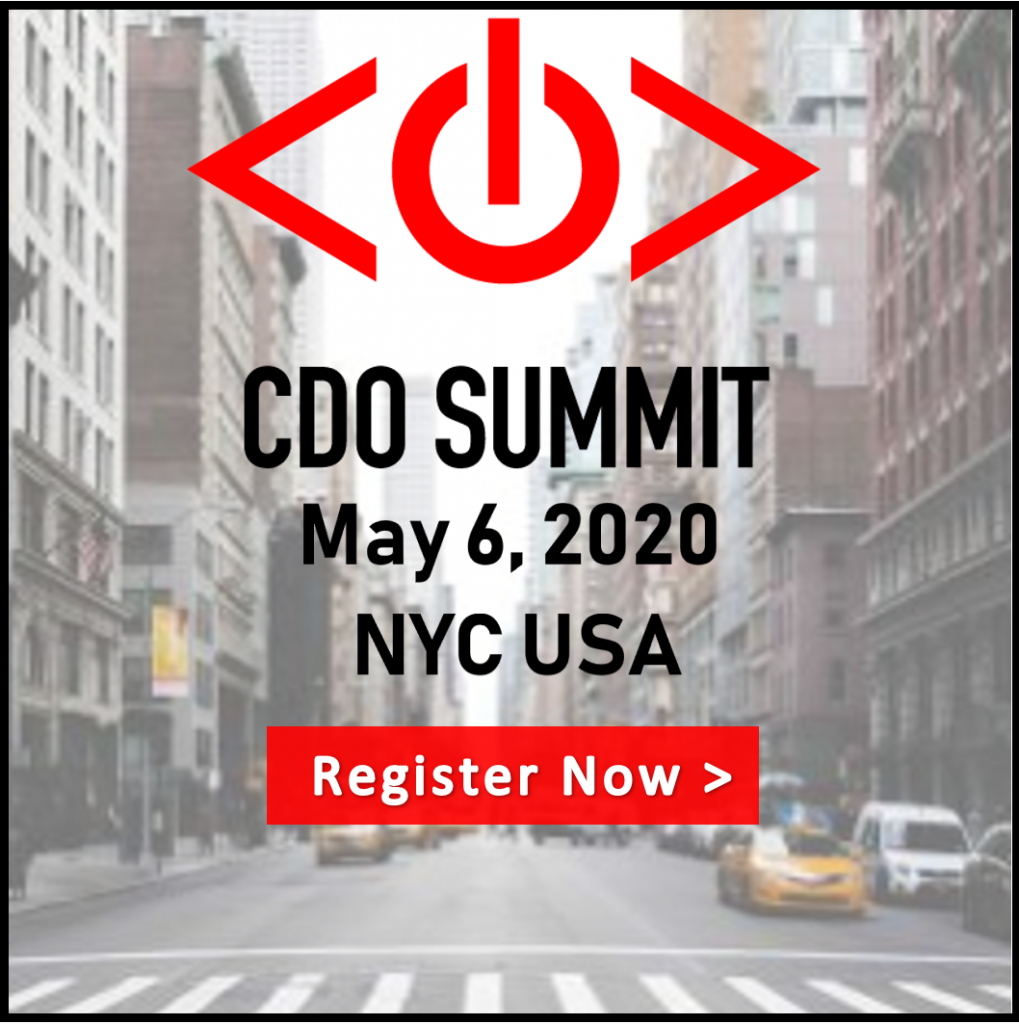 Save your seat to guarantee your spot at our May 6, 2020 Summit.
Regular Registration: $795 (Available Now)
Register for the 2020 NYC CDO Summit here >
Thank You NYC CDO Summit 2020 Partners: