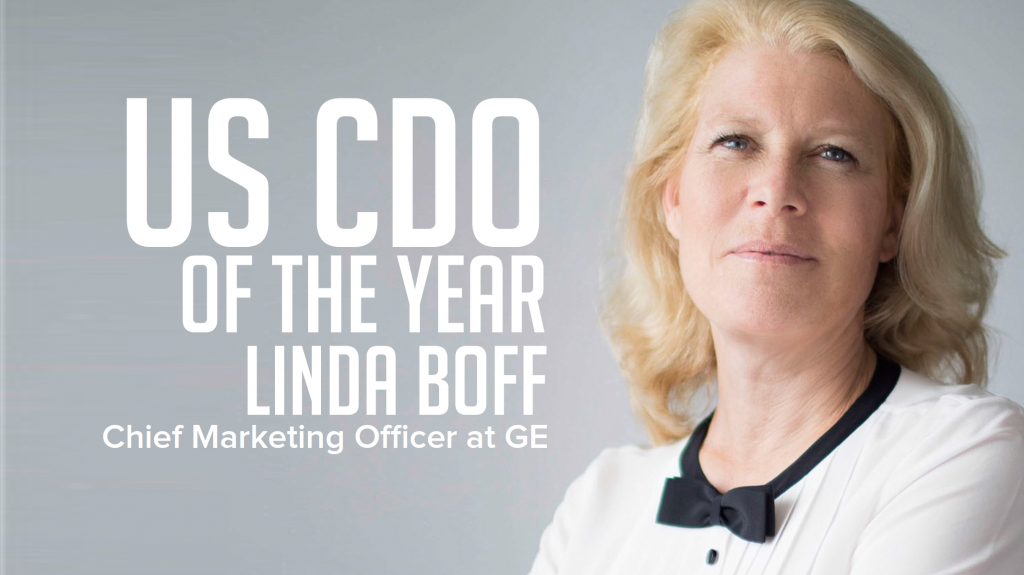 Linda Boff, Chief Marketing Officer at GE, was today recognized as U.S. Chief Digital Officer of the Year 2016 by the CDO Club, the world's largest community of C-suite digital and data leaders.
Boff is being recognized for her leadership in transforming the GE brand as the company becomes a 'Digital Industrial' company.
[bctt tweet="Linda Boff @lindaboff CMO @generalelectric named US CDO of the Year 2016 by the CDO Club at #CDOSummitNYC! http://bit.ly/26prmlp" via="no" url="no"]
She is not the first non-CDO to gain the recognition: The first-ever CDO of the Year award was given in February 2013 to Teddy Goff, who served as Digital Director at Obama for America in both 2008 and 2012, and now serves on Hillary Clinton's 2016 U.S. Presidential election campaign.
Boff was announced as the recipient of the award after her featured presentation at the NYC CDO Summit, presented by Centric Digital, on April 27, 2016, at Thomson Reuters in New York City.
"Today we recognize Linda's critical role in evolving the GE brand by showing the importance of digital leadership in the marketing function," remarked David Mathison, CEO of the CDO Club and CDO Summit.
"Her work is a testament to how traditional businesses can succeed and thrive by putting digital at the center of their business and marketing strategy," added Brian Manning, President & Chief Digital Officer at Centric Digital, the summit's presenting sponsor.
GE's brand has stood for technology and innovation for 124 years, and its innovative marketing is critical — especially as it aligns with the company's digital transformation.
The company has pioneered many first-to-market digital activations — experimenting on new platforms and using cutting-edge technologies in ways that are unexpected and easy to share and that generate attention.
GE was the first brand on Vine, and among the first brands on Twitter, Instagram, Medium, Giphy, Poncho, MikMak, Meerkat, and Periscope.  The GE Podcast "The Message" hit #1 on iTunes last fall.
The company also began experimenting with Virtual Reality (VR) in 2014, and in 2015 it partnered with The New York Times on its first VR storytelling activation.
Boff was promoted to CMO in September 2015 after previously serving for four years as Executive Director, Global Digital Marketing, where she played a key role in GE's foray into digital marketing and content creation.
Before GE, Boff served as CMO of iVillage Properties, part of NBC Universal. She joined GE in early 2004 with 18 years of experience in marketing, advertising, and communications, including senior roles at Citigroup, the American Museum of Natural History, and Porter Novelli.
She is a 2014 AWNY Changing the Game Award winner, B2B magazine's 2012 Digital Marketer of Year, and 2012 Media Maven. She is on the board of Partnership with Children, a NYC-based organization that provides social support to some 5,000 hard-to-reach schoolchildren. Boff is also on the Ad Council's Executive Committee and is a member of Digital 50.
Boff earned a BA in Political Science and Psychology from Union College.
Previous CDO of the Year award winners include Adam Brotman, Chief Digital Officer at Starbucks Coffee Company; Rachael S. Haot, former Chief Digital Officer of New York City and New York State; Patrick Hoffstetter, Chief Digital Officer at Renault; Tanya Cordrey, former Chief Digital Officer at Guardian News and Media; Mike Bracken, former Chief Digital Officer at U.K.'s Government Digital Service; and Rebekah Horne, Chief Digital Officer at National Rugby League.
– By Andrzej Sienko
See Select NYC Speakers:
Brian Manning
President & CDO
Centric Digital

Linda Boff
Chief Marketing Officer
GE

Phil Bienert
CMO & EVP, Digital Commerce
GoDaddy

Anne Myong
Chief Financial Officer
Walmart eCommerce

Brian Dearth
EVP / Chief Strategy Officer
Centric Digital

Catherine Devine
Chief Digital Officer
American Museum of Natural History

Jeff Reid
EVP Digital Center of Excellence
Humana

Lauren Lockwood
Chief Digital Officer
City of Boston

Kevin Bandy
SVP, Chief Digital Officer
Cisco
If you are tasked with understanding what digital leaders must do in order to succeed in almost any industry, the best place to learn more is at the CDO Summit.
Register today to get the Early Bird Registration rate for the U.K. CDO Summit on September 28, 2016 and the inaugural Washington D.C. CDO Summit on November 16, 2016.
Want to know what to expect at CDO Summit events?
Watch this quick video to find out:

The CDO Summit is the "must-attend" digital event of the year. The 2013, 2014 and 2015 CDO Summits received stellar endorsements from dozens of speakers and attendees alike:
< More News