The CDO Club held its inaugural Sydney CDO Summit, presented by Accenture Digital on 1 March, 2016 at the UTS Business School.
The CDO Summit addresses the challenges and opportunities arising from big data, the cloud, digital disruption, and social and mobile media.
The event took place at a pivotal time for digital innovation in Australia, with digital-friendly government initiatives such as an unprecedented $1.1 billion AUD ($800 million USD) innovation investment, and the launch of the first-ever Digital Transformation Office (DTO).
Paul Shetler, the DTO's first-ever Chief Executive Officer, keynoted at the Sydney CDO Summit on "The Future of Digital Government in Australia."
[bctt tweet="Look what happened at the inaugural Sydney CDO Summit presented by @AccentureDigi #CDOSYD http://bit.ly/1UbtIzF" via="no" url="no"]
In addition, in a historic meeting, three Australian city government Chief Digital Officers shared the stage for the first time for the "Digital Cities" panel.
According to original research by the CDO Club, the number of Chief Digital Officers (CDOs) doubled again in 2015, to 2,000 CDOs globally.
And it looks like CDO hiring trend that started in the United States and Europe is now expanding into new markets, like Australia.
The data was presented during CDO Club founder and CEO David Mathison's keynote presentation, "Hall of Fame: CDOs Who Have Become CEO and Board Directors."
Rebekah Horne, Chief Digital Officer at the National Rugby League (NRL), was named the first-ever Australian Chief Digital Officer of the Year 2016 at the event by the CDO Club.
Horne was announced as the recipient of the award after participating in the "DNA of the CDO – Reinvention or Unique?" panel moderated by executive search firm Odgers Berndtson. Paul Rush, Partner at Odgers Berndtson, moderated the panel.
Rebekah only joined NRL last month in the wake of a major new broadcast deal, but she has over 20 years' experience in digital, telecommunications, mobile and media companies.
During her previous tenure as CDO at Network Ten, Rebekah launched the Ten Play video streaming service, generating an average of 25 million page and 13.5 million video views a month. She helped grow digital revenue at the network by 74%.
Featured speaker Gerd Schenkel, Executive Director at Telstra Digital, also caused a stir with his fireside chat session.
Not only did Schenkel discuss how he was able to provide superior digital services by openly engaging his audience, but he practiced what he preaches by including the audience at the summit.
Other than a brief presentation, the majority of the fireside chat was a dedicated interactive session moderated by Paul Smith, Technology Editor at The Australian Financial Review.
The Sydney CDO Summit was held at the UTS Business School in the iconic Dr Chau Chak Wing Building, designed by legendary Canadian-American architect Frank Gehry.
In August 2015, Paul Shetler and Australian Prime Minister Malcolm Turnbull met at the Dr Chau Chak Wing building to announce that part of the DTO's staff would be housed on the University of Technology Sydney campus.
Dean of the UTS Business School Roy Green introduced a lunch and breakout demonstration by Bem Le Hunte, Associate Professor.
Social media engagement was tracked, analyzed, and presented on a social monitoring platform provided by MutualMind and powered by IBM Watson.
Participants competed for their place on a live leaderboard displaying the analysis of Watson's "adaptive listening" technology.
The Sydney CDO Summit was sponsored by Accenture Digital, Odgers Berndtson, and Unico.
To read or view insights from the summit, simply join the CDO Club.
CDO Club members can watch and read about panels and keynotes not only from this event, but from every single CDO Summit since its inception.
Speakers and organizations included:
Adam Freier: Head of Digital and Wallabies Media at Australian Rugby Union Ltd.
Andrew Reid: General Manager, Data Analytics and Insights at Ticketek Australia (TEG)
Bem Le Hunte: Associate Professor at UTS: University of Technology, Sydney
Bronwyn van der Merwe: Group Director and Managing Director at Fjord Australia
Cat Matson: Chief Digital Officer, City of Brisbane at Brisbane Marketing
Chris Gross: Head of Marketing, Brand and Social at FOX SPORTS Australia
Christian Bowman: Head of Marketing & Digital at SmartClinics
Ciarán Norris: Director, Marketing & Business Insights at American Express
Danny Bass: CEO at IPG Mediabrands Australia
Dave Maunsell: Managing Director, Accenture Digital ANZ at Accenture Australia
David Mathison: Curator of CDO Summit and Founder of CDO Club
David Swan: Technology Reporter at The Australian
Gary Wheelhouse: Chief Digital Officer at Harvey Norman
George Lawson: Head of Emerging Products and Innovation at Visa
Gerd Schenkel: Executive Director at Telstra Digital
Greg Stone: Head of Digital Services – Australasia at ARUP PTY LIMITED
John Miskelly: Chief Digital Officer at GroupM
Jon Cumming: Chief Digital Officer at ACT Government
Kane Washington: Digital Product and Program Manager at Cricket Australia
Kate Burleigh: Managing Director at Intel ANZ
Kevin Wordon: Head of Digital at Flight Centre Travel Group
Laura Campbell: Chief Information Officer at Allianz Global Assistance Australia
Lee Hickin: Commercial Lead for Internet of Things at Microsoft
Melissa Steward: Chief Digital Officer at Westpac New Zealand Limited
Michael Buckley: Accenture Interactive Lead, Australia & New Zealand at Accenture
Michelle Fitzgerald: Chief Digital Officer at City of Melbourne
Paul Rush: Partner at Odgers Berndtson
Paul Shetler: CEO at Australia's Digital Transformation Office
Rebekah Horne: Chief Digital Officer at National Rugby League
Renee Gamble: Country Manager ANZ at Google for Work
Rob Hudson: Managing Director – Brisbane at Young & Rubicam
Rod van Onselen: General Manager Online at SportsBet
Roy Green: Dean of Dean of the UTS Business School
Sarah Pike: CMO at Salmat
Scott Dinsdale: CMO at Salmat
Simon Want: Adviser at Unico
Tom Quinn: Former CIO/CTO at News Corp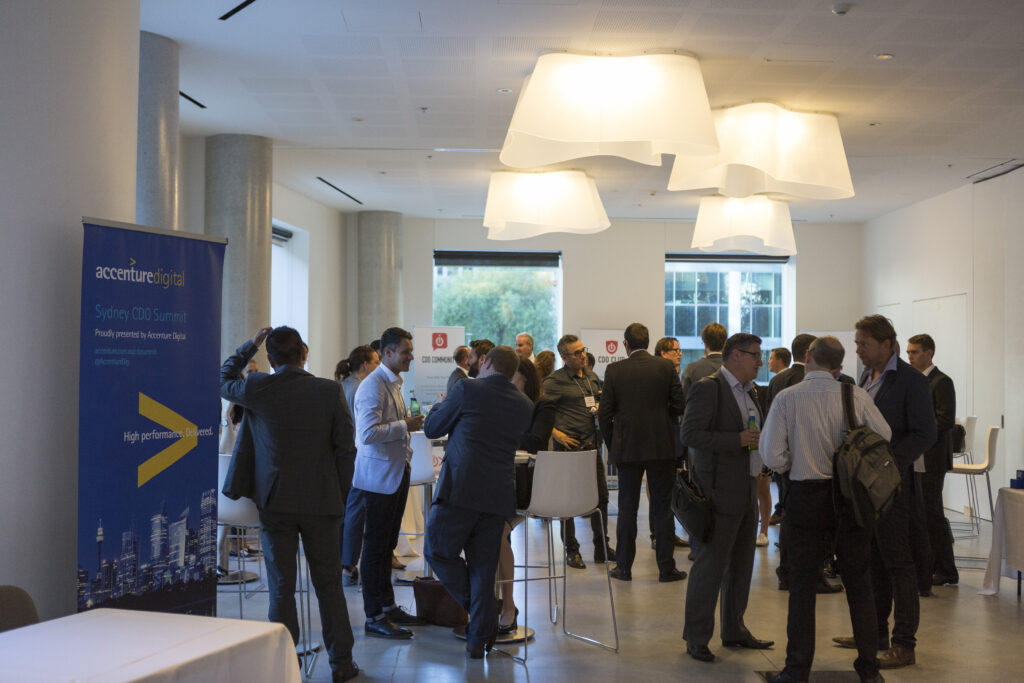 ---
If you are tasked with understanding what digital leaders must do in order to succeed in almost any industry, the best place to learn more is at the CDO Summit.
Register today for the 4th annual CDO Summit New York City on April 27, 2016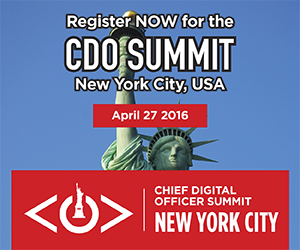 Want to know what to expect at CDO Summit events?
Watch this quick video to find out:

The CDO Summit is the "must-attend" digital event of the year. The 2013, 2014 and 2015 CDO Summits received stellar endorsements from dozens of speakers and attendees alike:
< More News