In stark contrast to the recent sluggish jobs report from the U.S. Department of Labor, demand for Chief Digital Officers and Chief Data Officers (CDOs) still grows globally at a frantic rate.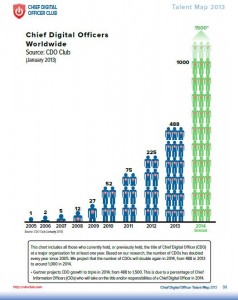 As projected in our 2014 CDO Talent Map, the CDO Club forecasts that the number of Chief Digital Officers will double again this year, growing to some 1,000 CDOs by the end of 2014.
The CDO Club also projects that there will be more than 200 Chief Data Officers by year end.
In a repeat of last year, even the normally "slow" summer months of July and August have produced CDO hires at leading global corporate, nonprofit, and government agencies, as cited below.
And, just like last year, these recent hires also fit the profile of the "typical" Chief Digital Officer.
Overall, CDOs are well-seasoned, veteran, professional leaders and business builders with digital DNA who have P&L responsibility and backgrounds in General Management, Corporate and Business Development, "entrepreneurial disruption," and the ability to get buy-in from multiple stakeholders across company silos.
Of course, optimal skill-sets will differ widely by sector.
EDITORS NOTE: See more recent CDO JOBS Updates below:
The combination of high demand and low supply of qualified, seasoned professionals is generating tremendous competition for talent, along with aggressive salaries and compensation packages.
The most highly compensated CDOs continue to be found in.....
NOTE: The CDO Club is now a membership site. You'll need to register in order to continue enjoying our posts. To register or for more information, click here. 
If you are tasked with understanding what digital leaders must do in order to succeed in almost any industry, the best place to learn more is at the fast-approaching NYC Chief Digital Officer Summit, presented by Capgemini on April 29 2015.
Take advantage of our Super Early Bird Discount for Amsterdam in September 2015, London in October 2015, Sydney in February 2016, and Toronto in July 2016. Reserve your place now: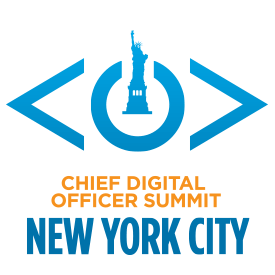 NYC 2015 Speakers:
Dr. Didier Bonnet
SVP and Global Practice Leader
Capgemini Consulting

Jessica Federer
Chief Digital Officer
Bayer

Jo Ann Saitta
Chief Digital Officer
The CDM Group

Johanna Murphy
CMO & Digital Director
Ivanka Trump

Sree Sreenivasan
Chief Digital Officer
Metropolitan Museum of Art

Sumita Singh
Senior Vice President
Marketing, Corporate Markets
Elsevier
The CDO Summit is the "must-attend" digital event of the year. The 2013 and 2014 CDO Summits received stellar endorsements from dozens of speakers and attendees alike: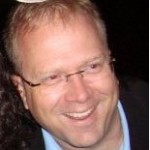 "Sometimes a conference comes along that hits the trifecta – hot topic, high-caliber attendees, and stellar location. The first Chief Digital Officer Summit reached that mark with ease, and I look forward to attending the next one."

"The Chief Digital Officer Summit was outstanding. Why? Candid panels with top players in the digital community. Splendid break-time conversations. And, savvy facilitation, Mathison Style."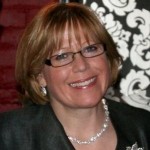 "David, here's a handy C^3 test for conference value: Did I learn at least three new perspectives? Check. Did I meet at least three interesting people? Check. Did I take back at least three relevant pieces of news I can use? Check. Flying colors for the Chief Digital Officer Summit 2013! Thank you so much, and yes, I'd be very pleased to participate next year!"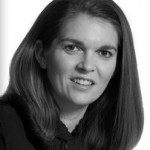 "Congratulations on an exceptional first CDO Summit. I truly enjoyed all the panel discussions as well as the intimate environment where I was able to meet such amazing people. The conversations were very enlightening and touched on all the challenges my team and I face on a technology, content, and culture front. I look forward to participating next year."
< More News