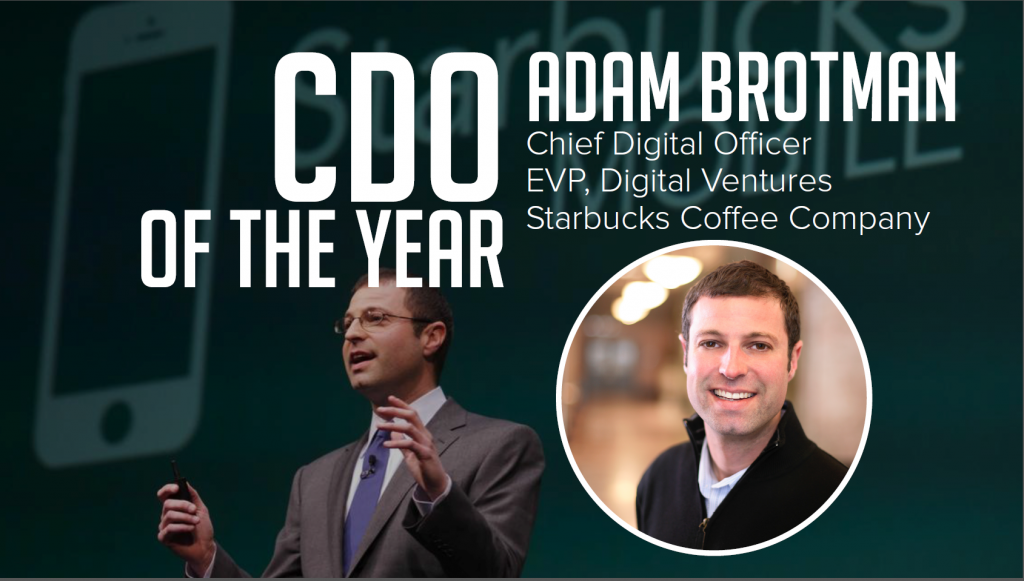 Onward and Upward: Congratulations to Starbucks Adam Brotman!
We are excited to inform our CDO Community that Adam Brotman will be leaving Starbucks after nine years to join J.Crew as President and Chief Experience Officer, reporting to new CEO Jim Brett.
Brotman joined Starbucks as Chief Digital Officer in April 2009, where he helped digitally transform the Seattle coffee giant, and made the company a leader in mobile payments.
In 2014, his team launched Starbucks' popular "mobile order and pay" smartphone feature, which now accounts for 11% of total transactions at Starbucks-owned stores. His team also developed the payment feature inside the Starbucks mobile app. According to Starbucks, last year 30% of in-store transactions were completed via mobile payments.
In May of 2014, Brotman was appointed to Neiman Marcus Group's Board of Directors, which put him into the CDO Club "Hall of Fame".
The CDO Club Hall of Fame features more than 100 CDOs who have became CEO/President or Board Director/Non-Executive Director since 2011.
With this new appointment as President of J.Crew, Brotman earns a spot in the CDO Club Hall of Fame for a second time!
J.Crew was wise to appoint Mr. Brotman as President:
As pointed out in McKinsey's December 2017 report, Why digital transformation is now on the CEO's shoulders, "digital transformation is everywhere on the agendas of corporate boards and has risen to the top of CEOs' strategic plans. What I'm seeing now is that, almost invariably, global corporate transformations are initiated and propelled by the CEO.

The threat is existential. For boards, if this isn't on your agenda, then you've got the wrong agenda. If your CEO isn't talking about how to ensure the survival of the enterprise amid digital disruption, well, maybe you've got the wrong person in the job. This may sound extreme, but it's not."
In 2015, in recognition of his many accomplishments, the CDO Club named Brotman U.S. Chief Digital Officer of the Year.
Congratulations Adam! We can't wait to see what you have in store for J.Crew.
Welcome back to our Chief Data Officer JOBS Update, through January 2018.
In this month's issue, we listed new Chief DATA Officer appointments for January; we tracked over 40 articles and hand-picked more than TWENTY-TWO CDOs who made the news last month; and be sure to check out all the new open CDO positions on our CDO Career page.
Clearly, these are exciting times to be a leader in building a data-driven culture!
[bctt tweet="Wow! Look at all the new Chief Data Officer appointments, open jobs, and CDO news in January 2018 http://bit.ly/2Fy3LHn via @CDOSummit" via="no" url="no"]
New Chief Data Officer placements (through January 2018): Congratulations to the new Chief Data Officers at AXIS Capital; BCA Marketplace plc; Datavant; DB Networks; FreightWaves; and J.D. Power, among others. Welcome to the CDO Club!
Chief Data Officers 'In the News': We tracked over 40 ARTICLES and hand-picked more than TWENTY-TWO  Chief Data Officers who made news in January, including Callcredit Information Group's Mark Davison; City Of San Diego's Maksim Pecherskiy; IQSS at Harvard University's Mercè Crosas; Plated's Haftan Eckholdt; SPR Consulting's Ray Johnson; Transport for London's Lauren Sager Weinstein; and Verve.ai's Dalia Asterbadi; among others. How did they make the news? Find out inside.
Open Chief Data Officer Jobs: Inside, you'll find open posts for Chief Digital Officers, Chief Data Officers, and other C-level digital and data positions. Be sure to review the open posts on our dedicated career page.
You'll find the details on all this and more below.​
NOTE: Also check out our previous CDO JOBS Updates here:
---
AWARDS (January 2018):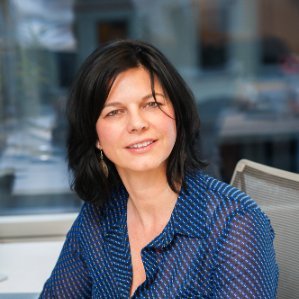 Mercè Crosas: January 11, 2018
Harvard researchers to help develop cloud-based NIH Data Commons platform
The National Institute of Health has announced that Harvard co-Principal Investigators Dr. Mercè Crosas and Dr. Timothy Clark are NIH Data Commons Pilot Phase Awardees. Mercè Crosas is the Chief Data Science and Technology Officer at the Institute for Quantitative Social Science (IQSS) at Harvard University.
---
NOTE: You will need to be a registered CDO Club member to view this post, with at minimum SILVER, GOLD, or PLATINUM status......



If you are tasked with understanding what digital and data leaders must do in order to succeed in almost any industry, the best place to learn more is at the CDO Summit.
Our CDO Summits cover DIGITAL TRANSFORMATION, DATA, and ANALYTICS.
We stack the agendas with the BEST digital and data leaders in the public and private sector.
The CDO Summit is the "must-attend" digital event of the year. The 2013, 2014 and 2015 CDO Summits received stellar endorsements from dozens of speakers and attendees alike: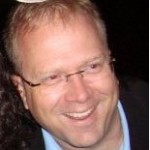 "Sometimes a conference comes along that hits the trifecta – hot topic, high-caliber attendees, and stellar location. The first Chief Digital Officer Summit reached that mark with ease, and I look forward to attending the next one."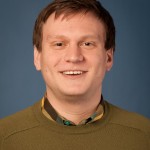 "Congratulations and thanks to David Mathison for spotting the need for community and collaboration in the growing Chief Digital Officer space, and for having the wherewithal, network, and organizational talent to put together such a top-notch event in its inaugural year. Next year's summit should be even more of a must-do for anyone working digital at senior levels in all kinds of businesses."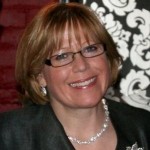 "David, here's a handy C^3 test for conference value: Did I learn at least three new perspectives? Check. Did I meet at least three interesting people? Check. Did I take back at least three relevant pieces of news I can use? Check. Flying colors for the Chief Digital Officer Summit 2013! Thank you so much, and yes, I'd be very pleased to participate next year!"

"Congratulations to David Mathison and his team on the simply amazing job they did on the inaugural Chief Digital Officer Summit. Probably the most informative, insightful, on target, entertaining, collaborative, thought provoking, and inspiring conferences I have ever attended. I learned more about my business and what I do in the past 12 hours than I have from any research white paper, articles or blogs over the past 12 months. The range of topics and speakers assembled were incredibly diverse, informative, collaborative, and most of all, inspiring. It has invigorated me to be the best possible professional CDO I can be. David Mathison's skills as a moderator were impeccable, bringing out the best of the speakers and keeping the conversation flowing. His intimate and insightful knowledge of this space is only out-shined by his humility and graciousness. Kudos to David and his organizing team."
< More News