Welcome back to our Chief Digital Officer JOBS Update, through March 2020.
Despite (or maybe because of) these turbulent times, March 2020 was yet another exceptional month for Chief Digital Officers. For a quick recap to date: 
January Chief Digital Officer JOBS Update

: Hiring in this normally slow month  was RED HOT, with new CDO hires announced at Bayer, Chubb, Cognizant, McDonalds, Microsoft, Panera Bread, and Sainsbury's, among others.

February CDO Jobs Update

: Last month set a new record for the number of CDOs who made the transition to CEO and/or Board Director

with

NINE

in one month. 
Our current March 2020 CDO JOBS Update broke February's record, with TEN CDOs who moved to CEO and/or Board Director roles, including: 
Charlie Cole

: CEO at

FTD

. Former Chief Digital Officer at

Tumi/Samsonite

.

Jacqueline Wright

: Board Director at

nVent Electric plc

(NYSE:NVT). Currently Chief Digital Officer at

Microsoft U.S.
James Kuffner

: Board Director at

Toyota

. Currently CEO and CDO at Toyota Automated Driving and Robotics. 

Sheila Jordan

: Board Director at

Slack (NYSE: WORK)

. Currently Chief Digital Technology Officer at Honeywell.

Naureen Hassan

: Board Director at

OneSpan™ Inc

. (NASDAQ: OSPN). Currently Chief Digital Officer at Morgan Stanley Wealth Management.

See more below
Yet another record was broken this month, with THIRTEEN CDOs joining publicly traded company boards in just the first three months of 2020.
That's more than twice the number from all of 2019, when six CDOs joined Boards.
FEMALES represented the majority NINE of this month's thirteen new board appointments.
See our CDO Hall of Fame page for details
These moves demonstrate the strategic importance of CDOs on Boards and as CEOs. 
Especially during times of crisis.
Today, it is critically important for companies to have executives who are experienced in digital transformation, building new businesses, products, and services, and cutting costs through frictionless online transactions and increased operational efficiencies. 
Publicly traded companies are staffing their boards with cross-industry digital leaders to fill knowledge and experience gaps, overcome internal biases, weaknesses, and blind spots, review the competitive landscape, business direction, and strategy, and to ensure that management identifies, manages, and mitigates risk.
The survival of every organization today is at serious risk. The smart ones are taking protective and proactive measures now, fully leveraging the skill sets of C-suite leaders in digital, data, analytics, security, and privacy.
Bottom line: This is the best time in history for CDOs to get that CEO and/or Board Director role. 
If you are interested in help in getting
a board slot with a publicly traded company, send us an email. 
In this issue, we list TEN more CDOs who became President/CEO or a Board Member in March. Check out all the new CDOs who became CEOs and Board Members on our Hall of Fame page. We also tracked 62 CDO ARTICLES; and hand-picked TWENTY-SIX CDOs who made the news last month; and we posted more new open global CDO positions on our CDO Career page!
New Chief Digital Officer placements (through March 2020)

:

SIX

new CDOs were hired in March, we provide the highlights below. Congratulations to the new Chief Digital Officers at Carat USA; Heineken; Hospitals NHS Trust; and Schneider, among many others. Welcome to the CDO Club!
Chief Digital Officers to CEO or Board Member

: This month there were

TEN

Chief Digital Officers who became President/CEO or Board Members, including Adriana Karaboutis; Charlie Cole; Jacky Wright; Lola Cardoso; Naureen Hassan; Sameer Deen; and Sheila Jordan!





Check out the report we published with Bain Capital in 2018 on "

101 CDOs Who Have Become CEO/President

" and our CDO to CEO/NED

Hall of Fame

page.
Chief Digital Officers 'In the News'

: Consider us your personal CDO "news clippings" service. We tracked

62 CDO ARTICLES

and hand-picked

TWENTY-SIX CDOs

who made the news in March, including IKEA Group's Barbara Martin Coppola; Leeds City Council's Dylan Roberts; London's Theo Blackwell; Merriam-Webster's Lisa Schneider; NASCAR's Tim Clark; Pakistan's Tania Aidrus; and The Dow Chemical Company's Melanie Kalmar! How did they make news? Find out inside.
Open Chief Digital Officer Jobs

: Our career page lists over two dozen current CDO/CAO jobs. You'll find open posts for Chief Digital Officers, Chief Data Officers, Chief Analytics Officers, and other C-level positions. Be sure to review the open posts on our

dedicated career page

.
You'll find the details on all this and more below.​
---
---

---
NEW BENEFITS FOR CDO CLUB MEMBERS FROM IDC:
We are thrilled to announce IDC as Exclusive Research Partner to the CDO Club, and Presenting Analyst Partner at the NYC CDO Summit.
Effective January 2020, IDC will provide these new benefits to paid CDO Club members:
New CDO Club SILVER and GOLD members will now receive:
IDC Digital Transformation Planning Guides (Silver/Gold members)
IDC FutureScape: "Worldwide Digital Transformation 2020 Predictions" (Gold members)
Complimentary ticket to IDC Directions West; IDC Directions East; IDC Agenda20 (Gold members)
New CDO Club PLATINUM and CORPORATE members will now receive:
All benefits listed above for Silver and Gold members PLUS…
IDC Analyst group conference call with a member of IDC's senior research team
IDC Market Perspective: "The CEOs Agenda for the Digital Enterprise"
See Our New CDO Club Membership Benefits: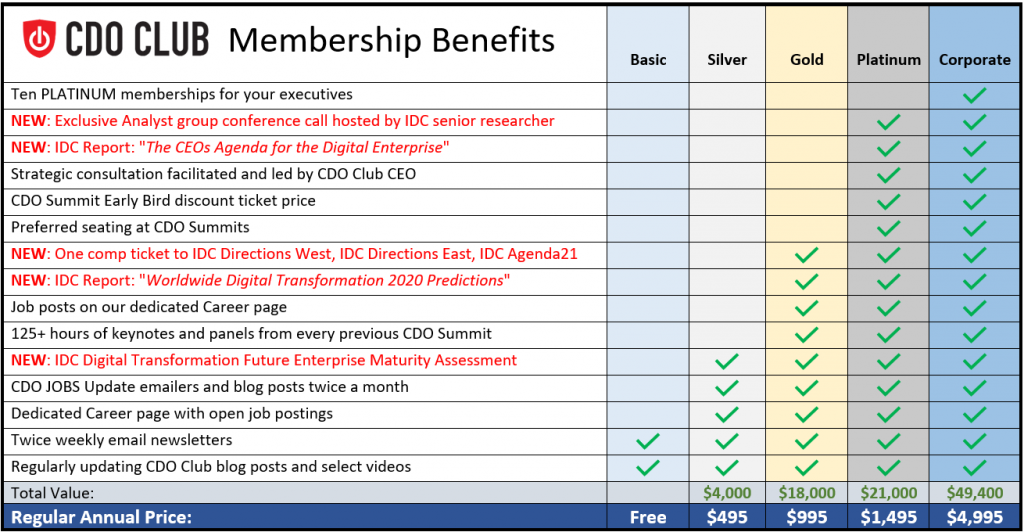 Click here to register or find out more.
We created the CDO Club community to enable our members to share their experiences and best practices, and to help them to stay on top of the rapid changes taking place in this dynamic market.
A CDO Club Membership still allows you to:
Find out which companies are hiring Chief Digital, Data, and Analytics Officers.
Get the latest updates on what today's CDOs/CAOs are working on.
Get access to videos from every CDO Summit to date, to hear their stories.
See who is moving up the ladder from CDO to CEO.
PLUS NEW: Effective January 2020, the IDC content above will be added to CDO Club Membership packages.
All this information – and more – is included in our monthly CDO Jobs Update blog posts. CDO Club members gain access to these Updates, all the way back to Q4 2014.
Here are links to our previous CDO JOBS Updates:
---
AWARDS (March 2020):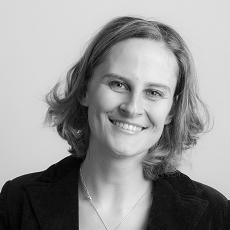 Lubomira Rochet: March 18, 2020
L'Oréal's Lubomira Rochet Named WFA Global Marketer of the Year
L'Oréal's Chief Digital Officer Lubomira Rochet has been named WFA Global Marketer of the Year 2019. The accolade was given by the World Federation of Advertisers in acknowledgement of Rochet's work in leading L'Oréal's "digital transformation," the company said.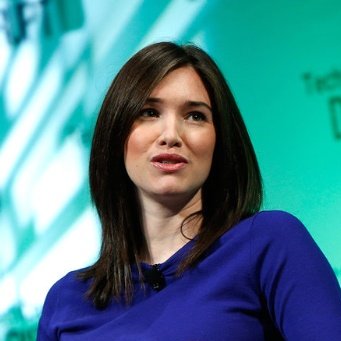 Rachel Haot: March 16, 2020
The Gov Tech 50: 6-50
25. Rachel Haot: Executive Director at Transit Innovation Partnership
When it comes to prominent public sector tech positions, Rachel Haot has held them all – from New York City's first Chief Digital Officer to Gov. Andrew Cuomo's deputy secretary for technology. Haot's work at the Transit Innovation Partnership now involves coupling scrappy startups with entrenched agencies like the MTA. That's happening most visibly through the Transit Tech Lab, a competition and pilot program challenging startups to solve long-standing transit issues using innovative solutions.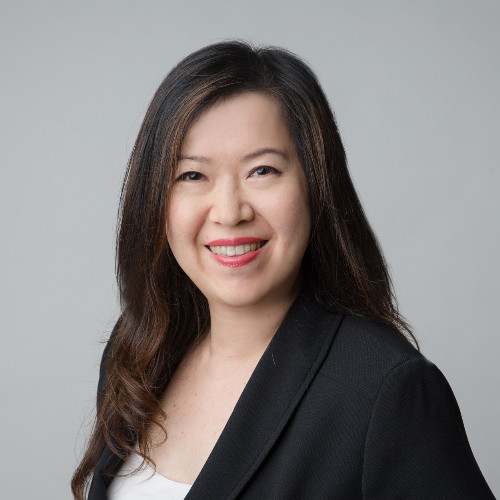 Carolyn Chin-Parry: March 7, 2020
MitchelLake celebrates International Women's Day
Carolyn Chin-Parry is a digital leader and a transformation expert who has recently received the prestigious Woman of the Year award at the Women in IT Asia Awards 2019. Carolyn works at PwC Singapore as the Managing Director – Digital Up-skilling Leader APAC. Chin-Parry has also fulfilled senior roles such as Chief Digital Officer for a multi-billion dollar conglomerate- Prism, as well as a KPMG Director in the Transformation and Change Management practice.
NOTE: You will need to be a registered CDO Club member to view this post, with at minimum SILVER, GOLD, or PLATINUM status.
.....
If you are tasked with understanding what digital and data leaders must do in order to succeed in almost any industry, the best place to learn more is at the CDO Summit.
Our CDO Summits cover DIGITAL TRANSFORMATION, DATA, and ANALYTICS.
We stack the agendas with the BEST digital and data leaders in the public and private sector.
Register today for the NYC CDO Summit!
The CDO Summit is the "must-attend" digital event of the year. The 2013, 2014 and 2015 CDO Summits received stellar endorsements from dozens of speakers and attendees alike: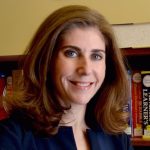 "Thank you both for a wonderful experience yesterday at the NYC CDO Summit! I thought the event was terrific, and I so enjoyed our panel discussion. Took a lot of notes and connected with some great people."
Lisa Schneider
Chief Digital Officer & Publisher
Merriam-Webster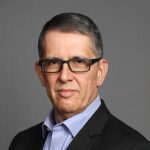 "Your CDO Job Updates are the most important reports I read."
Mario Faria
VP Program Director, Research Board
Gartner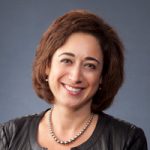 "Great conference today! Thank you for the opportunity to join the Data panel discussion at the 2018 NYC CDO Summit. I enjoyed contributing, and your questions and commentary were very insightful allowing for a dynamic conversation."
Gina Papush
Global Chief Data & Analytics Officer
Cigna
< More News