Welcome back to our Chief Data Officer/Chief Analytics Officer JOBS Update through November 2020!
In this issue, we list EIGHT new CDO/CDAO appointments for November; we tracked 52 CDO ARTICLES; and hand-picked SIXTEEN CDO/CDAOs who made the news in November; and we posted more new open global CDO positions on our CDO Career page!
New Chief Data Officer/Chief Analytics Officer placements (through November 2020): EIGHT new CDO/CDAOs were hired in November, we provide the highlights below. Congratulations to the new Chief Data Officers/Chief Analytics Officers at axialHealthcare, CMI Media, Discover Financial Services, Global Risk Partners Limited (GRP), Nationwide, and more! Welcome to the CDO Club!
Chief Data Officer/Chief Analytics Officer 'In the News': Consider us your personal CDO "news clippings" service. We tracked 52 CDO ARTICLES and hand-picked NINETEEN CDO/CDAOs who made the news in November, including Army Talent Management Task Force's Kristin Saling, Community Health Network's Patrick McGill, MD, H&M group's Arti Zeighami, IAG's Bora Arslan, and Microsoft's John Kahan! How did they make news? Find out inside.
Open Chief Data Officer/Chief Analytics Officer Jobs: Our career page lists over two dozen current CDO/CAO jobs. You'll find open posts for Chief Digital Officers, Chief Data Officers, Chief Analytics Officers, and other C-level positions. Be sure to review the open posts on our dedicated career page.
You'll find the details on all this and more below.​
---
Vote for the 2020 US "CDO/CAO of the Year" Award Winners!
We need your help: vote for your peers! Send your vote to: vote@cdoclub.com
The CDO Club is excited to announce open voting for these two US awards:
2020 US Chief Digital Officer of the Year: 2020 was a year unlike any other. Chief Digital Officers were called on to perform herculean tasks, and goals that were previously "nice to haves' on the last pages of the digital blueprint were fully implemented – things like work from home, tele-health, remote education, "last mile" delivery of everything from groceries to meals and medicine.CDOs were not only challenged by the pandemic, but the US also faced civil unrest, and then an attack on democracy itself. Given all this, its a challenge to choose the US Chief Digital Officer of the Year for 2020. So we're hoping YOU can help us identify a worthy candidate. 
2020 US Chief Analytics Officer of the Year: This is the first time the CDO Club is giving out this new annual award, so we want to get it right. 2020 was a challenging year for US analytics professionals, given that the data from 2019 could no longer be used to predict the future. And now the data from 2020 is so skewed that its a challenge to make predictive models into 2021!In addition there seemed to be a war on analysis, with people looking at the same set of data and coming to entirely different conclusions. We don't need to look too far for examples: the US Presidential election in November resulted in 70+ million people believing that one candidate won, and 70+ million people feeling that the other candidate won.Given that this is our first-ever CAO award, we want to get it right. For guidance, I look back on our first ever Chief Digital Officer of the Year award winner in 2013 – Teddy Goff – who as Digital Director for Obama for America arguably helped elect the President of the USA. And our first-ever Chief Data Officer of the Year award winner in 2016 – DJ Patil – who won for his work as the first-ever Chief Data Scientist at the White House Office of Science and Technology. It is important that this first award, given in a tumultuous year, stands the test of time. So again, we are looking to YOU and our CDO community to help identify a worthy candidate.
Some criteria for successful nominees include:
A successful track record in implementing digital transformation, analytics, and/or data-driven culture at their organization;
Regularly deliver key products, apps, services, analytics, or platforms that increase digital revenues, decrease costs, enhance employee loyalty and retention, or improve customer service;
Use data, insights, and analytics to maximize profitability, reach, and engagement, and to gain a holistic view of the customer to improve the customer journey;
Play a critical role in evolving their company or brand from analog to digital;
Have longevity in their position;
Is collegial with peers, collaborative across the C-suite, and a mentor to staff;
Serves as NED/Board Director for other companies or organizations.
As in previous years, the candidate's role, activities, and responsibilities are more important than their actual title ("CDO").

Send your vote to: vote@cdoclub.com

Previous CDO of the Year award-winners dating back to 2013 are posted here for both digital and data.
---
---

---
NEW: BENEFITS FOR CDO CLUB MEMBERS FROM IDC!
We are thrilled to announce IDC as Exclusive Research Partner to the CDO Club, and Presenting Analyst Partner at the NYC CDO Summit.
Effective January 2020, IDC will provide these new benefits to paid CDO Club members:
New CDO Club SILVER and GOLD members will now receive:
IDC Digital Transformation Future Enterprise Maturity Assessment  (Silver/Gold members)
IDC FutureScape: "Worldwide Digital Transformation 2020 Predictions" (Gold members)
Complimentary ticket to IDC Directions West; IDC Directions East; IDC Agenda20 (Gold members)
New CDO Club PLATINUM and CORPORATE members will now receive:
All benefits listed above for Silver and Gold members PLUS…
IDC Analyst group conference call with a member of IDC's senior research team
IDC Market Perspective: "The CEOs Agenda for the Digital Enterprise"
See Our New CDO Club Membership Benefits: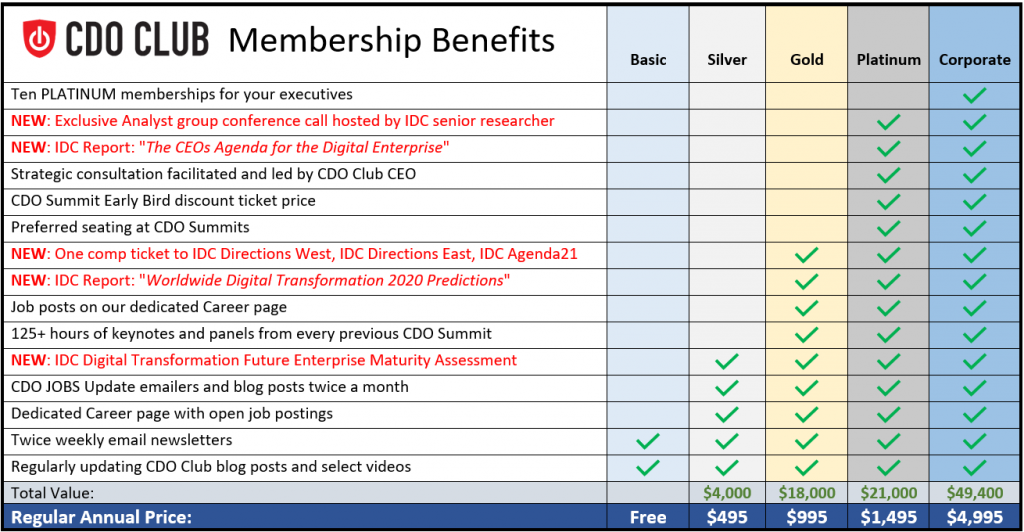 Click here to register or find out more.
We created the CDO Club community to enable our members to share their experiences and best practices, and to help them to stay on top of the rapid changes taking place in this dynamic market.
A CDO Club Membership still allows you to:
Find out which companies are hiring Chief Digital, Data, and Analytics Officers.
Get the latest updates on what today's CDOs/CAOs are working on.
Get access to videos from every CDO Summit to date, to hear their stories.
See who is moving up the ladder from CDO to CEO.
PLUS NEW: Effective January 2020, the IDC content above will be added to CDO Club Membership packages.
All this information – and more – is included in our monthly CDO Jobs Update blog posts. CDO Club members gain access to these Updates, all the way back to Q4 2014.
Here are links to our previous CDO JOBS Updates:
---
NOTE: You will need to be a registered CDO Club member to view this post, with at minimum SILVER, GOLD, or PLATINUM status.
.....
If you are tasked with understanding what digital and data leaders must do in order to succeed in almost any industry, the best place to learn more is at the CDO Summit.
Our CDO Summits cover DIGITAL TRANSFORMATION, DATA, and ANALYTICS.
We stack the agendas with the BEST digital and data leaders in the public and private sector.

Did you miss our NYC CDO Summit Virtual Sneak Peek?
Don't worry! We still have it available on our website for you to watch.
https://cdoclub.com/nyc-cdo-summit-virtual-sneak-peek/
Speakers include:
David Mathison, Founder of CDO Summit/CDOClub
Topic: A record-breaking Q1 2020 for CDO/CAOs: How, Why, and What's Next?
Meredith Whalen: Chief Research Officer at IDC
Topic: Why Digital Transformation Matters Now More Than Ever
Martina Cheung: President of S&P Global Market Intelligence and Janice Ellig: CEO of Ellig Group
Topic: Using Data to Navigate New Business Challenges
The CDO Summit is the "must-attend" digital event of the year. Previous CDO Summits have received hundreds of stellar endorsements from dozens of speakers and attendees alike: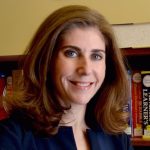 "Thank you both for a wonderful experience yesterday at the NYC CDO Summit! I thought the event was terrific, and I so enjoyed our panel discussion. Took a lot of notes and connected with some great people."
Lisa Schneider
Chief Digital Officer & Publisher
Merriam-Webster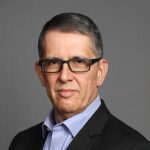 "Your CDO Job Updates are the most important reports I read."
Mario Faria
VP Program Director, Research Board
Gartner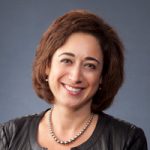 "Great conference today! Thank you for the opportunity to join the Data panel discussion at the 2018 NYC CDO Summit. I enjoyed contributing, and your questions and commentary were very insightful allowing for a dynamic conversation."
Gina Papush
Global Chief Data & Analytics Officer
Cigna
< More News